Will You Won't You Want Me?
Purchase This Title
Available now:
Overview
Will You Won't You Want Me?: A Novel
Marjorie Plum never meant to peak in high school. She was queen bee. Now, 10 years later, she's lost her sparkle. At her bleakest moment, she's surprised by renewed interest from a questionable childhood crush, and the bickering with her cranky boss—at a potentially game-changing new job—grows increasingly like flirtatious banter. Suddenly, she's faced with a choice between the life she always dreamed of and one she never thought to imagine. With the help of a precocious 11-year-old tutee, who unknowingly becomes the Ghost of Marjorie Past, and a musician roommate, who looks like a pixie and talks like the Dalai Lama, Marjorie struggles with the ultimate question: Who does she want to be? Nora Zelevansky's Will You Won't You Want Me? is a funny, often surprising, novel about growing up when you are already supposed to be grown.
Read Reviews:
"Funny, sexy, and packed with perfect poignant insight that will resonate with readers of any age. I LOVED this book and didn't want it to end. Reading Zelevansky's prose felt like watching 'Breakfast at Tiffany's'—Marjorie is so utterly captivating and endearing that even when she's flailing you don't want to miss a second of it!"—Nicola Kraus, New York Times bestselling co-author of The Nanny Diaries and Nanny Returns
"Will You Won't You Want Me? achieves that rare combination of razor-sharp wit and romance - a love story that's not afraid to be smart, satirical and wise. Nora Zelevansky's mesmerizing writing captivates from page one." —Cara Lockwood, USA Today bestselling author of I Do (But I Don't)
"Nora Zelevansky deftly explores the ups and downs of a young woman learning that the first step toward real love lies in coming to love one's true self." —Miranda Beverly-Whittemore, New York Times bestselling author of Bittersweet
"Nora Zelevansky gets romantic in Will You Won't You Want Me,"—Vanity Fair (Hot Type)
"Writer Nora Zelevansky explores the precariousness of holding onto one's past while forging a future." —Wall Street Journal Magazine (Buy The Book; "The Season's Most Exciting Fiction Reads")
"When Marjorie Plum, once queen bee of her Manhattan prep school, is forced into a pauper life, she realizes starting at the bottom might get her to the top." —Cosmopolitan Magazine, (Cosmo Reads; April 2016)
"Native New Yorker Zelevansky's got a real bead on a certain slice of her city—the young working woman trying to make a career, find a reasonable relationship etc. . . . Enter a precocious Park Slope kid Marjorie tutors and an offbeat new musician roommate, and we have a fine skewering of things that need skewering in 2012 New York." —Billy Heller (Required Reading), New York Post 
"Nora Zelevansky's quippy read makes the challenges of adulthood relatable." — US Weekly (Editor's Picks; "Memorial Day Weekend Must-Reads")
"Just who is the real Marjorie Plum? Nobody knows, least of all Marjorie. Now in her late twenties, she's spent the decade since graduating from high school desperately trying to hold fast to everything that she was back then: cool, popular, rich. When a twist of fate changes her circumstances, she moves into a small Brooklyn apartment with a roommate and takes a job tutoring. Her 11-year-old charge is anything but easy. She's a snarky know-it-all and so annoying. In short, she's Marjorie in training—and the realization is enough to knock Marjorie upside the head. Will this finally help her grow up and get out from under her past? This quick, humorous, and endearing read—new millennial chick lit—is sure to please fans of Emma McLaughlin and Emily Giffin." —Nanci Milone Hill, Booklist
"Zelevansky's followup novel to Semi-Charmed Life is perhaps one of the most relatable reads for anyone going through a rough transition period. Her writing manages to perfectly capture the mindset of her protagonist with what occasionally appears to be thoughts that veer off topic and sudden changes in point-of-view. This perfectly mirrors how quickly someone who doesn't quite have it all figured out changes their mind about the different elements in their life. This only enriches the novel more, and instead of turning away, readers will find themselves continually turning the pages instead." —Lauren DuBois, Romantic Times
"We've all heard those inspiring success stories about the high school underdogs who made it big — but what about those of us who feel our life's gone the other way round? Marjorie Plum was Queen Bee at her high school, but 10 years later, her life isn't turning out quite as she hoped. Will You Won't You Want Me is a cute and funny novel by Elle magazine writer Nora Zelevansky." —Emma Oulton; Bustle.com
"And they lived happily ever after…let's be honest, real life is a lot more complicated, especially if you're 10 years out of high school and still struggling to find a job, make sense of a relationship (or two), or all of the above. Check out this list of books perfect for anyone who is struggling to grow up when they are already supposed to be grown up!"—BuzzFeed ("8 Mesmerizing Reads For Millennials")
"26 Books You Should Read This Spring"—Pop Sugar
"You will not want to miss Will You Won't You Want Me? (Griffin Books). Wise, funny, deft and fully loaded with insight and humor, Zelevansky's irresistible new novel will make you laugh out loud on your couch or maybe fall off your beach chair this summer." —Organic Spa Magazine (Rona Berg; EIC)
"I'm so excited for this book to be published and finally available for everyone to enjoy. Please, please, please. Don't pass this one up. I loved it so much that I'm already looking forward to getting a physical copy just so I can have it within arms reach whenever I feel like re-reading it. And so that I can hug it. Seriously." —Audrey's Bookcase blog
"Zelevansky writes a captivating and mesmerizing story full of hope, love, and a surprisingly refreshing heroine to look up to. Overall, this is one book you should definitely put on your list of books to read next. The characters are well developed, real, one hundred percent authentic. I can't wait to read more from the author!" —The Lovely Books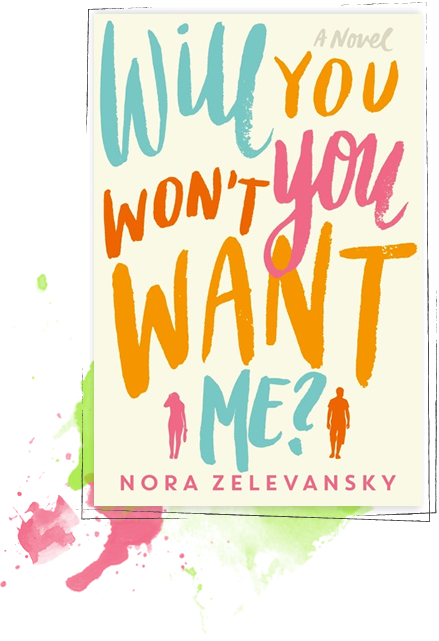 Semi-Charmed Life
Purchase This Title
Available for purchase at these fine retailers...
Overview
Semi-Charmed Life: A Novel
In Nora Zelevansky's hilarious debut, Semi-Charmed Life, an Upper West Side naïf, Beatrice Bernstein, gets swept up in the seemingly magical life of socialite Veruca Pfeffernoose, while ghost writing her blog. Veruca's glitteringly opulent world soon seduces Beatrice away from her own insular, arty family with a promise of fancy parties, travel outside Manhattan (for once) and one desperately cute guy. But when her new glitzy lifestyle starts to take on dark undertones, Beatrice has to decide who she is—once and for all. With her own magical touch, Zelevansky deftly explores the world of rarified Manhattan in this sparkling modern fairy tale of first love, finding one's voice and growing up.
Read Reviews:
Fiction Review -- Publisher's Weekly
Weekend Reading: Semi-Charmed Life -- ELLE.com
The Books of Summer -- Daily Candy
Author Nora Zelevansky Dishes Slice of NYC Life -- Pittsburgh Post Gazette
C'S BEACH READS: SEMI-CHARMED LIFE - Nora Zelevansky's witty coming-of-age tale follows an Upper West Side kind of gal as she's swept into the high-flying province of socialite Veruca Pfeffernoose, replete with chic parties, exotic adventures and love affairs. July 3; St. Martin's. —C Magazine
"10 Books To Fill The 'Girls'-Shaped Hole In Your Life." -- Flavorpill
"Prepare to be fully-charmed! Nora Zelevansky has delivered a deliciously hilarious novel that you will devour in one sitting and then beg for more!"—Jessica Brody, bestselling author of 52 Reasons to Hate My Father
"An amazing new voice, a romantic and magical romp through the hip, glitzy and overheated and over-hyped worlds of fashion, art and music...Deft, funny, inspired."—Molly Jong-Fast, Author of The Social Climber's Handbook
"Semi-Charmed Life is a deliciously dizzying comedic mystery, filled with as many twists and turns as the maps that Beatrice, the main character, collects. Nora Zelevansky captures Beatrice's over-the-top adventures through Manhattan celebutante society with a freshness and authenticity that makes every page a pleasure. Nora's writing is unselfconsciously stylish, giddy with references to art and pop-culture, and wholly entertaining."—Aury Wallington, author of the New York Times bestselling novel Saving Charlie and former "Sex and The City" writer
Vital Spy: Nora Zelevansky -- Vital Juice
Summer Beach Reads --Shoptopia
Review: Semi-Charmed Life by Nora Zelevansky -- A Written Rhapsody