Will You Won't You Want Me?
Purchase This Title
Available for purchase at these fine retailers...
Overview
Will You Won't You Want Me?: A Novel
Marjorie Plum never meant to peak in high school. She was queen bee. Now, 10 years later, she's lost her sparkle. At her bleakest moment, she's surprised by renewed interest from a questionable childhood crush, and the bickering with her cranky boss – at a potentially game-changing new job—grows increasingly like flirtatious banter. Suddenly, she's faced with a choice between the life she always dreamed of and one she never thought to imagine. With the help of a precocious 11-year-old tutee, who unknowingly becomes the Ghost of Marjorie Past, and a musician roommate, who looks like a pixie and talks like the Dalai Lama, Marjorie struggles with the ultimate question: Who does she want to be? Nora Zelevansky's Will You Won't You Want Me? is a funny, often surprising, novel about growing up when you are already supposed to be grown.
Read Reviews:
"Funny, sexy, and packed with perfect poignant insight that will resonate with readers of any age. I LOVED this book and didn't want it to end. Reading Zelevansky's prose felt like watching 'Breakfast at Tiffany's'—Marjorie is so utterly captivating and endearing that even when she's flailing you don't want to miss a second of it!"—Nicola Kraus, New York Times bestselling co-author of The Nanny Diaries and Nanny Returns
"Will You Won't You Want Me? achieves that rare combination of razor-sharp wit and romance - a love story that's not afraid to be smart, satirical and wise. Nora Zelevansky's mesmerizing writing captivates from page one." —Cara Lockwood, USA Today bestselling author of I Do (But I Don't)
"Nora Zelevansky deftly explores the ups and downs of a young woman learning that the first step toward real love lies in coming to love one's true self." —Miranda Beverly-Whittemore, New York Times bestselling author of Bittersweet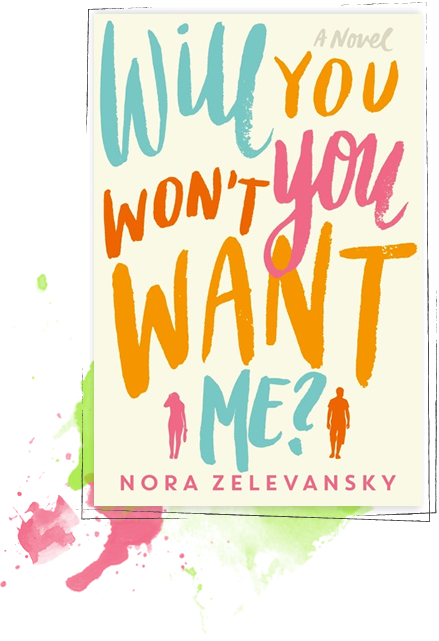 Semi-Charmed Life
Purchase This Title
Available for purchase at these fine retailers...
Overview
Semi-Charmed Life: A Novel
In Nora Zelevansky's hilarious debut, Semi-Charmed Life, an Upper West Side naïf, Beatrice Bernstein, gets swept up in the seemingly magical life of socialite Veruca Pfeffernoose, while ghost writing her blog. Veruca's glitteringly opulent world soon seduces Beatrice away from her own insular, arty family with a promise of fancy parties, travel outside Manhattan (for once) and one desperately cute guy. But when her new glitzy lifestyle starts to take on dark undertones, Beatrice has to decide who she is—once and for all. With her own magical touch, Zelevansky deftly explores the world of rarified Manhattan in this sparkling modern fairy tale of first love, finding one's voice and growing up.
Read Reviews:
Fiction Review -- Publisher's Weekly
Weekend Reading: Semi-Charmed Life -- ELLE.com
The Books of Summer -- Daily Candy
Author Nora Zelevansky Dishes Slice of NYC Life -- Pittsburgh Post Gazette
C'S BEACH READS: SEMI-CHARMED LIFE - Nora Zelevansky's witty coming-of-age tale follows an Upper West Side kind of gal as she's swept into the high-flying province of socialite Veruca Pfeffernoose, replete with chic parties, exotic adventures and love affairs. July 3; St. Martin's. —C Magazine
"10 Books To Fill The 'Girls'-Shaped Hole In Your Life." -- Flavorpill
"Prepare to be fully-charmed! Nora Zelevansky has delivered a deliciously hilarious novel that you will devour in one sitting and then beg for more!"—Jessica Brody, bestselling author of 52 Reasons to Hate My Father
"An amazing new voice, a romantic and magical romp through the hip, glitzy and overheated and over-hyped worlds of fashion, art and music...Deft, funny, inspired."—Molly Jong-Fast, Author of The Social Climber's Handbook
"Semi-Charmed Life is a deliciously dizzying comedic mystery, filled with as many twists and turns as the maps that Beatrice, the main character, collects. Nora Zelevansky captures Beatrice's over-the-top adventures through Manhattan celebutante society with a freshness and authenticity that makes every page a pleasure. Nora's writing is unselfconsciously stylish, giddy with references to art and pop-culture, and wholly entertaining."—Aury Wallington, author of the New York Times bestselling novel Saving Charlie and former "Sex and The City" writer
Vital Spy: Nora Zelevansky -- Vital Juice
Summer Beach Reads --Shoptopia
Review: Semi-Charmed Life by Nora Zelevansky -- A Written Rhapsody