Nora Zelevansky
NORA ZELEVANSKY is the author of Will You Won't You Want Me? and Semi-Charmed Life. Her writing has appeared in ELLE, T Magazine (The New York Times), Town & Country, the Los Angeles Times, The Wall Street Journal and Vanity Fair, among others. She lives with her husband and daughter in Brooklyn, New York.
Coming Soon
Will You Won't You Want Me?: A Novel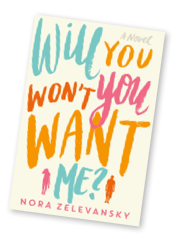 Services Upon Request
Nora is available for the following:
WYWYWM? Book Club Sessions
Guest Blog Posts
Article Assignments & Editing
Lifestyle Consulting, Copywriting & Branding
Readings, Speaking Engagements & Panels
Upcoming Events
There are no events scheduled at this time.
Go To Events