LA (DOWNTOWN): THE BEST OXTAIL RAVIOLI AT NEW DRAGO CENTRO
By Nora Zelevansky / January 30th, 2009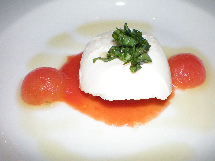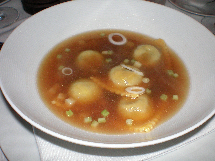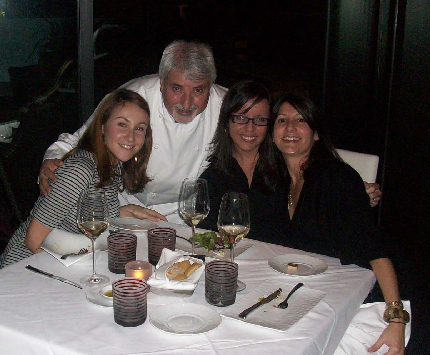 (Celestino joins the table, as these lovely ladies and I snap photos and pretend we're tourists–Do you like how my shirt kind of matches the water glasses?)
Some people envision an "Italian stallion" with rippling golden muscles and a swarthy seductive gaze.
Me, not so much.  I prefer a man whose passion is pasta.  SO, I hopped over to (and eventually rolled out of)
Chef Celestino Drago'
s newest eatery,
Drago Centro
, Downtown this week.
If you're already a fan of his other locations, you'll be pleased, as the food is divine and the space is wide open and spacious.  Downtown's fine dining restaurants can sometimes feel corporate, I think, but this manages to escape that stuffy vibe.  (Or maybe I just drank too much wine?)
Speaking of which: Centro's charming sommelier, who searches out lesser poured wines (which, you know, we like since
we're all about the hidden gems
) is rife with knowledge, but not pretension.  FYI–he said if he had to drink one wine for the rest of his life it would be
Riesling
because of all the variety, so maybe we should adopt that position for table talk too?  
I just LOVE a Riesling.
  (Did that sound convincing?)
Anyway, I ate my way through a boatload of bread (I couldn't help it–the olive oil gets me every time),
Buffalo Mozzarella with garlic oil
and tomato puree
(good for the lactards like me, who shouldn't do cow cheese),
I Carciofi grilled artichoke salad
with bronte pistachios,
Oxtail Ravioli
 with celery roots and broth (which was flavorful and light) AND desserts from
Doughnuts with Ricotta Cream
to a homemade cookie plate.
But the highlight of the evening was definitely chilling out with Celestino himself
, who–instead of being affected or, well, absent from the restaurant entirely–was front and center, hilarious and sweet as could be.  Actually, Celestino's family–some siblings from Italy and others from LA (with restaurants too)–were all in attendance.  Turns out the lot of them–six boys and two girls–grew up in Sicily, where his mother (reportedly an outstanding cook) prepared meals with ingredients farmed on their own land.  
Um, can I move in?  (Not that I didn't love your "Daddy's Special Soup," Dad, but Campbell's Chicken Noodle and Tabasco does not a farm-to-table dinner make).
So that's where "Italian Stallions" come from.  I'll drink Riesling to that.
Cheers!
xo – N.