LA: THE BEST ART (in) LA
By Nora Zelevansky / January 23rd, 2009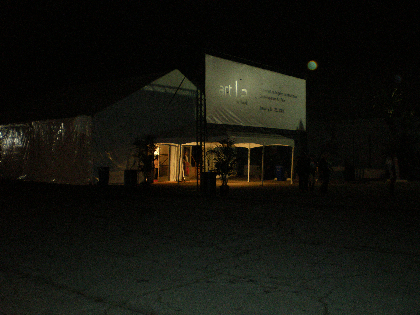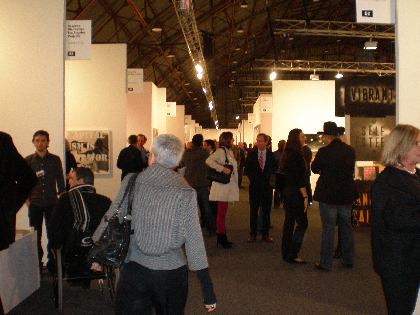 Thanks to my parents, I grew up in NYC's art world, puttering as a toddler around Soho gallery openings (avoiding the nasty wine cheddar cheese) and then meandering as a teen around
MOMA
black-tie events (wishing there was any food at all–even wine cheddar).  So, imagine my surprise when I went to my first LA opening (a Diego Rivera show at
LACMA
) and found a festive outdoor party, complete with mariachi band and burritos.  Ole.
I know outsiders often believe that LA's idea of culture involves Botox injections and a dip in The
Playboy Mansion
's grotto.  Just because it happens on
Entourage
. . . But, beyond even the deep cinematic history and UNBELIEVABLE Mexican food, LA has a huge burgeoning contemporary art scene. Last night, my mother took me to the opening of
art la
at
Barkar Hanger
in Santa Monica Airport.
First of all, I'm a huge fan of this little airport: I used to work in an office there and loved watching small planes take-off, while scarfing noodles at
Typhoon
(where you can order bugs, BTW) or sushi at
Hump
.  Secondly, I have mostly attended fashion shows (
Gen Art
etc.) and
Barneys Warehouse Sales
at Barker Hanger (so positive associations), but I have never seen the space look quite this good.
Anyway, everyone was buzzing about the great energy at the fair.  And I just thought it was really exciting to see all these established and fledgling galleries from around the world descending on LA and further legitimizing the city as an art world hub.  It was like the festive vibe you find on
Chinatown
's Chung King Road or at galleries on La Cienega (just below Venice)–during a slew of Saturday evening gallery openings–was transported and magnified.
Plus, they served food, which you know makes art la good with me.
xo – N.