LA (WEST HOLLYWOOD): THE BEST MINT CHOCOLATE CHIP MERINGUE
By Nora Zelevansky / January 21st, 2009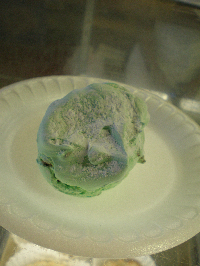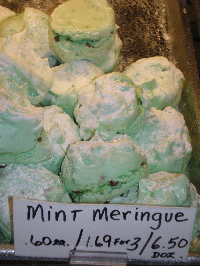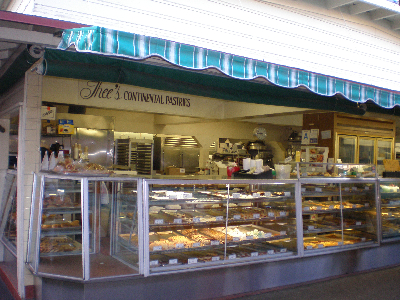 True confession: I'm a lactard.  But I periodically cheat because–in my humble opinion–life without mozzarella sticks would just be no life at all.  Still, I get psyched when I discover a truly yummy treat that is practically milk free (but not some odd soy concoction).  Maybe that's why, despite my usual salt addiction, I am SO obsessed with the mint chocolate chip meringues at Thee's Continental Bakery at The Farmer's Market.  That and they're the best things ever.
Now, non-LA *natives may be inclined to ask, "Which Farmer's Market?"  And though myriad temporary green markets abound on designated days in la la land, "THE" Farmer's Market generally refers to the permanent fixture next to CBS (where a college version of me once shot an episode of
The Price Is Right
alongside a frightening, makeup caked Bob Barker, thereby destroying perfectly lovely memories of Plinko watching on childhood sick days).  Anyway, though the countless food stalls would be draw enough for me, I love coming here because–in a city that many people insist isn't, well, a city–
a cross section of people descend on this one spot
.  And, yes, I must mention the
The Grove
outdoor mall is next door, which is fantastic if you like to watch fountain water choreographed to Celine Dion tunes. Actually the movie theater is great.
Everyone has a favorite Farmer's Market eat: my father has vacillated between
Kokomo
's
BLT
and
Bob's Coffee & Donuts
'
apple fritter
(before
Kokomo
's moved to Beverly Blvd).  My husband, Andrew, can't resist
Moishe's Chicken Shwarma Sandwich
.  But, personally, I love the mint meringues best for many reasons, not the least of which is that
they resemble meteors from an alien land
.  Secondly, meringues are generally made from basically egg whites and sugar and the simplicity appeals to me.  Thirdly, close encounters with mint chocolate meringues are rare.  And lastly, they literally disintegrate, as they touch your tongue.  Like many of the best things in this world, they're crunchy on the outside and chewy inside.  What could be more perfect than that?
xo – N.
*In LA, the term "native" is bestowed on anyone who stays past pilot season.