Q & A: Itinerary Question, LA Pastimes For Less Mobile Guests
By Nora Zelevansky / January 27th, 2009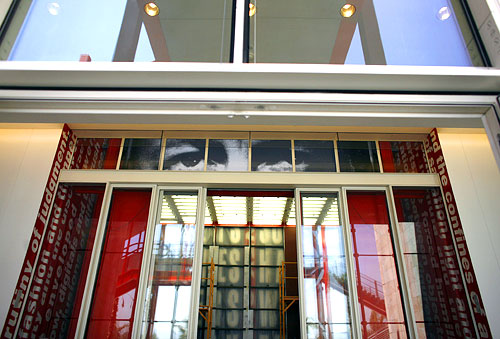 (Image of BCAM elevator by Michael Robinson Chavez, The Los Angeles Times

)
QUESTION:
(posed via "Ask Lifestyle Questions!" by Rachel on 1/26)
We have guests coming into town and we are looking for fun LA actives that don't require too much walking. Is there anything you can recommend, that for this type of LA visit?
ANSWER:

Usually people consider LA's car culture a drag

, but, in this case, maybe we found a silver lining. See? I knew there was a good reason for all that traffic.  Well, you know . . .
Anyway, as a food lover, I have to point out that trying unusual/new restaurants in lesser known hoods is always a good sit-down activity.  

In LA, odd or new neighborhoods are never exhausted

and just sitting oceanside in Malibu or in towns like Manhattan Beach can feel like a visit to the beach for someone who might not otherwise get to go.  Is that really obvious?  Probably.  But, even in an area like

Silverlake, Echo Park or Eagle Rock

, A. & I will often grab Sunday lunch and then go for a drive in the hills; the houses are beautiful and most people from outside LA don't even really know about the east side.
But, anyway, for

non-food related suggestions

(which will inevitably include food references because I can't help myself), most institutions supply wheelchairs.  (Obvious again?  Sorry . . . ). The new BCAM building at LACMA is a great destination, for instance, because your less mobile guest can hop in a chair and get pushed around this amazing new contemporary art space.  And, actually, the large central glass elevator is the site of a Barbara Kruger piece (so you can be transported and experience art at once).
I'm also a huge fan of Huntington Gardens, where I know you can rent a chair. It's beyond beautiful there (and it's LA, so it's actually

warm enough to be outside–MIRACULOUS for cold weather dwellers

). Also, you can make a reservation to have

high tea at the restaurant

there, which you gotta love.
Also, maybe this seems too average, but I think Arclight's Cinerama Dome is the best movie theater I've ever visited–don't you?  And this is Hollywood, after all.  If you can grab a movie there, you'll also be in the vicinity of Thai Town (including Palms Restaurant and the famous

Thai Elvis

impersonator).  Now that's LA.