Q & A: Art Question, LA Gallery Tips
By Nora Zelevansky / January 24th, 2009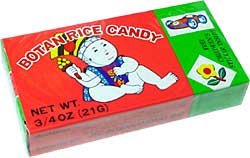 QUESTION: (posed via "Ask Lifestyle Questions!" by anonymous, 1/24)
Can you give me some tips on good LA galleries? I'm coming to LA soon and would love to scout a few for fun…Thanks.
ANSWER:
Okay, I LOVE this question because–not only will I give you some gallery tips–but I'll indulge my crazy obsession with shops and food too and tell you what else to check out, while you're in each area.  I'M INSANE, but whatever.  Tonight (Jan. 24)–BTW–happens to be an "Art Night," where a bunch of galleries stay open late for openings etc.
First, they offer a relatively comprehensive guide–although not complete–to LA galleries at www.artcollecting.com, so you can definitely check that out.  But clearly you're not going to hit every space in la la, so I would recommend three major contemporary gallery clusters: Chinatown, La Cienega (Culver City) and Bergamot Station.
1. CHINATOWN–A box of Botan rice candy from any of the traditional Chinese bauble shops is a must for me, while wandering in and out of contemporary galleries on Chung King Road and Gin Ling Way.  (Yes, you can eat the inside wrapper).  If you wander the Gin Ling Way courtyard past bakeries and the famous wishing well, you'll uncover even more spots.  Some of the original settlers and biggies: Sister, China Art Objects, Chung King Project, Flux Gallery and new addition Cottage Home.  On designated Saturday evening "Art Nights" (which are generally indicated on the Chinatown website), a bunch of galleries have openings simultaneously and serve beer and wine and people in skinny jeans and distressed boots just sort of mingle on the cobble streets–so fun!  If you hit the galleries on one of these nights and happen to get hungry, head to Yang Chow on Broadway (the closest to NYC-style Chinese food in LA, I think) and never mind the (fast moving) long line.  For drinks, art sceners tend to travel between Mountain Bar (which is a sight to behold in all its red glory) and, across the courtyard, divier Hop Louie.  If you prefer to check out galleries sober and without so many peepes, come during the day and grab dim sum at Empress Pavilion (shrimp & green pepper in black bean sauce–yum).  I always check out shops like Welcome Hunters (for lesser known designers–often European–and a sale right now), Lion's Den (for limited edition sneakers and also graffiti art etc.) and Ooga Booga for artist books and local (often art world) designers.***
2. LA CIENEGA (BELOW VENICE)–This Culver City (adjacent?) stretch has come up more recently even than Chinatown, but some of the old Chung King Road and Santa Monica faves have already moved and set up shop here (like Peres Projects and Blum & Poe).  I got married recently at a new eco-event space called Smog Shoppe across the street (literally a converted auto shop with vertical succulent gardens–so amazing) and actually just interviewed the owners about the burgeoning neighborhood's best spots for this month's issue of C Magazine.  But I can definitely tell you that Mandrake is this hood's Mountain Bar with a great indoor/outdoor thing and that the Smog Shoppe folks love–at a short driving distance–the miso soup at nearby Beacon, beer at Father's Office (actually famous for their burgers) and wine at Fraiche (everyone is crazy for this more upscale spot).  Also, check out Royal/T's cafe, shop and exhibition space.  My father swears that the blueberry muffins are crazy good.
3. BERGAMOT STATION–So, this Santa Monica complex is the largest grouping of galleries in LA and is also home to the Santa Monica Art Museum.  Bergamot Station is like an outdoor enclave onto itself, where they sometimes host–not only openings–but large scale events and parties.  The cafe here serves totally decent lunch chow and the galleries are a bit more established and "known" than in the other spots.  Also, the BEST SANDWICH PLACE IN ALL OF LA (sorry for caps, but I mean it) is a five minute drive from here on Lincoln.  Head to Bay Cities Italian Deli and do not under any circumstances miss the meatballs or cannolis.  I always get some salt & vinegar Kettle Chips to go with my sandwich and spicy eggplant pasta too.  YUM.
One other spot I'll mention because its good for a celebrity sighting is Beverly HiIls' Gagosian (also found in NYC, Rome, London and Hong Kong).  I once saw Pamela Anderson perusing here.  Who knew?
***The Solway Jones show on Hill Street turned out to be the best last night, so definitely don't miss that gallery, if you head down to Chinatown.