LA (AND BEYOND): THE BEST TWIST ON CLASSIC STUDS
By Nora Zelevansky / February 3rd, 2009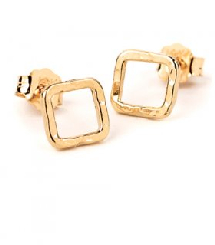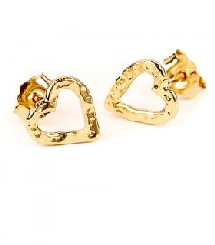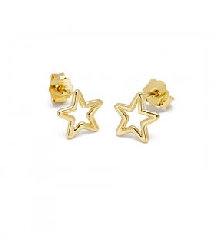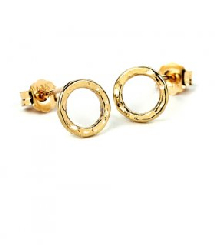 Your high school art teacher, in all her woven dashiki and asymmetrical earring-clad glory, taught you the importance of negative space.
Well, LA jewelry designer Adina Reyter turns that negative into a positive with her beautiful outline-only gold studs.  Born and bred in Cali, Adina tends to embrace (and then toy with) simplicity, subtly manipulating basic shapes–sorta like a young Elsa Peretti.  I've been a fan since I wrote her Daily Candy back in the day, after she instigated that whole circle necklace trend that celebs like Jennifer Aniston wholeheartedly adopted.
Now, I know what you're thinking: a stud is no big thang.  But Adina's designs riff on traditional all gold, bezeled gemstone or pearl studs.  Think classic country-club rich bitch with a rebellious streak.  (Uh oh.  Was that too revealing? Mean Girl at heart? Psych 101 anyone?)
Most importantly, they look beautiful on.  I wore a pair of rose-gold hearts religiously (now discontinued, I think) and received endless compliments.  I also covet her new "One Twist" collection, especially in rose gold (see below). But I'm a rose gold fanatic, if you haven't noticed. Check out the "Doves" and "Moons" too because, while she suggests a shape, she doesn't beat you over the head with an obvious interpretation.  And, in these cash po' times, one key accessory can really elevate that tired wardrobe from so boring you're going to scream to lovely.
Up next: a new "Butterfly" line is launching, as well as a murmured about new lower price point collection.  Adina is in boutiques EVERYWHERE.  Just check her site: it will inevitably direct you to some of the country's best accessory shops including must-visit LA spots (and some e-shops) like Fred Segal Santa Monica, Intuition and even chic (gasp!) Valley haunts like Belle Gray and Mimi & Hy.  (Wait–I just went to the Belle Gray site and I'm kind of scared–Is anyone else?  Turn the volume up!)
Also, randomly, Adina is kinda an Amanda Peet doppelganger, no?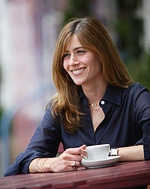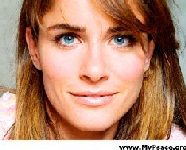 (Adina, Amanda Peet–Am I crazy?)
Anyway, lots of great accessories coming out of LA right now, especially Adina's simple posts.
Tell me about it, Stud.  
xo – N.
P.S. More top LA jewelry designers: C.C. Skye, Sydney Evan, Bare (by Jeet Sohal), Jessica Elliot, Devon Leigh and the list goes on . . .