LA: CRUMPLED TWENTY
By Nora Zelevansky / February 5th, 2009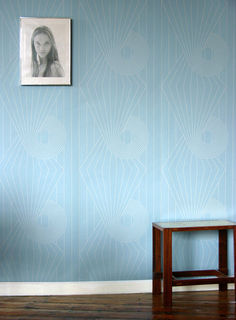 (Walnut on Beverly Blvd–can you see the pattern?  It's subtle, so you have to be really attuned–feel the wallpaper, know the wallpaper, desire the wallpaper . . . This is getting a little frightening, even for me).
So wallpaper can be a tough nut to crack, meaning–well, sort of nothing–but it sounded good right? No, but seriously, blogger
Rachel Leonard
introduces readers to adorable little design/wallpaper shop on LA's Beverly Blvd, Walnut, and offers up a link to expert
Julia Rothman
's tips on how to
make your own
.
Personally, I love to draw, but I'm not always so good with the paper mache and macaroni art, you know?  But for all you craftsy bitties (yeah, I said bitties) like Rach out there in the BK lounge (I dunno), seems like a pretty cool thing, no?  Me?  Let's be honest: I'll go buy the stuff at Walnut.
xo – N.