LA (CULVER CITY): THE BEST FLORAL DESIGN STUDIO/VD FLOWERS
By Nora Zelevansky / February 3rd, 2009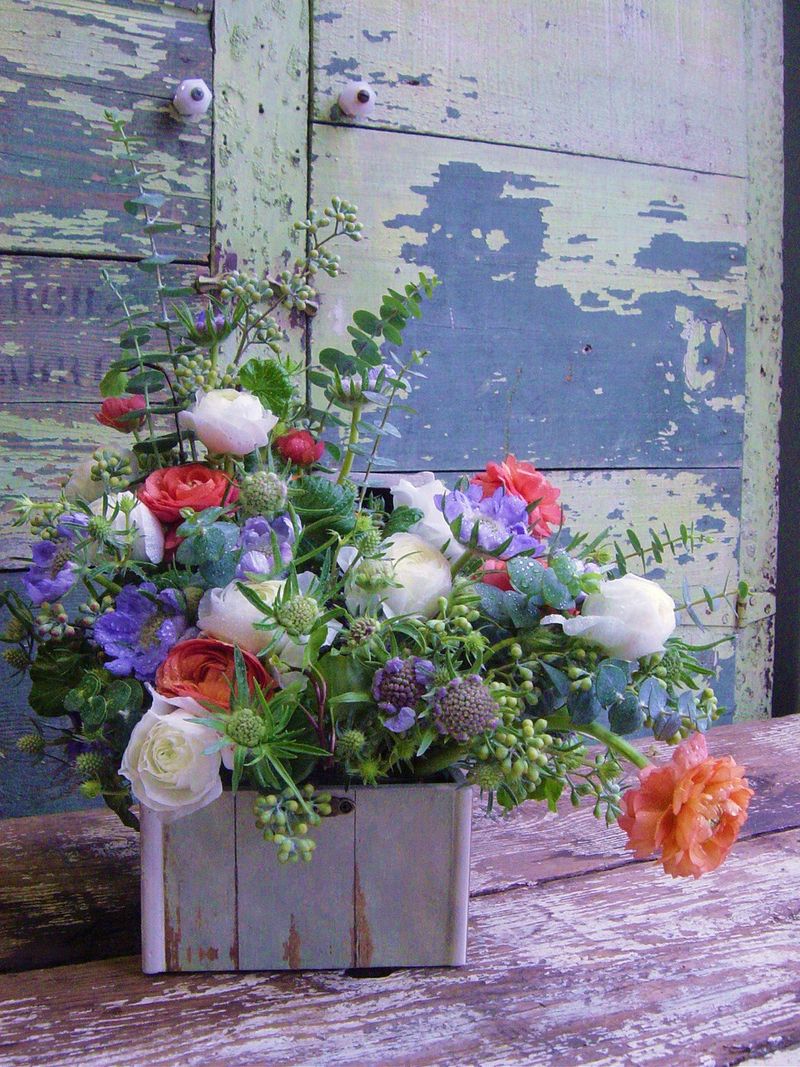 Ever found yourself in the midst of a heated debate among brides about centerpieces?  I have. And I'm here to tell you that it's deeply boring. And maybe even a little bit depressing in that 1950's housewife, Revolutionary Road kind of way.
See, for me, wedding planning loomed like an alienating nightmare: though I'm girlie as they come in most ways and particular about style, I'm missing that craftsy, wedding planning gene; you know, the one that spurs brides to tie intricate bows on homemade welcome baskets for out-of-town guests. Also, organization doesn't come easily to me in anything but work (which leads my mother to believe it's willful, but it's not!)  So, the concept of choosing centerpieces–beyond wanting them short enough not to obstruct conversation–was totally beyond me.
At least until I met the ladies from Dandelion Ranch.  First of all, Clover Chadwick and Fawn Fletcher have the most amazing names in the world.  (That wasn't really what I set out to say, but don't they???) I met Clover years ago, when she first set up shop at Push Emporium, Downtown's open-floor-plan mini-complex of independent designer wares that I was covering for Daily Candy.  Her arrangements instantly blew me away: her aesthetic has this organic, yet modern, rustic, yet refined, pretty, yet quirky vibe that is beyond beautiful.  Who knew flowers could be cool (and that floral designers could be even cooler)?  Years later, as we planned my wedding flower palette, Clover was even tolerant when I repeated fifty times that I wanted "those cool pods" in the arrangements.  Low and behold, I instigated a heated conversation about centerpieces.
Clover's background is actually in restaurants and she approaches flowers the way a contemporary market-to-table chef might approach food, shopping regularly at markets for the freshest, most seasonal blooms and preparing them with ingredients in a proper mis-en-place format.  Maybe that's why she does flowers for the most amazing, chic eateries in town from Grace to Sona; eateries where they treat food like art.
Dandelion Ranch used to be based in Hollywood, but now Clover found Fawn and they've opened up their first retail outpost in a Culver City barn. Yup, barn, like moo.  (It's just so amazingly LA to happen upon crazy spaces like barns in the middle of an urban hood.) Anyway, they've set up this adorable outdoor garden, where they'll eventually hold events and parties, and they have this whole two-story-ceilinged indoor set-up too.  It's so sweet and rustic that I not only want to sit down to sip tea with them there daily, but I sort of want to move in. (See pics from when they first opened below; though things are a bit more polished now).
Anyway, for my grandmother's bday (86–go Nana!) we ordered an arrangement to be sent to her in Pasadena (see picture above).  How beautiful is that?  I wish that everything in my world looked this effortlessly pretty.
xo – N.