LA: THE BEST NEW SLEW OF LOCAVORE SPOTS
By Nora Zelevansky / February 2nd, 2009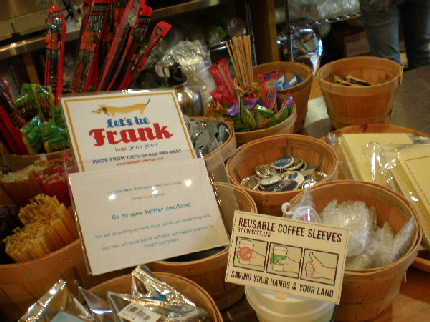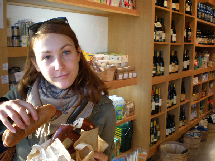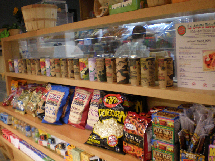 I'msure this designates me as some kind of freak, but, before last week, I'd never really had a Slurpee before.  I didn't even know that it was spelled with two "e"s (like Ashlee Simpson).
Now, I know what you're thinking:
1) What the hell is wrong with you?
2) You poor, deprived child . . .
3) What is wrong with Ashleeeeee Simpson's parents? (I'm with you on this one).
Growing up in Manhattan, I really didn't frequent 7-11 (okay, maybe inebriated in the Hamptons). I've never had a huge sweet tooth and, well, I was raised by crazies who fed me carob-covered brown rice cakes for dessert. Yup, they even tried to pass off yogurt and honey as a "sundae."
Eh.  At least they didn't name me "Noreeee."
Anyway, as a result of this deprivation, I have developed a love affair with gas station stores.  (I even have a favorite one: a 76 Station on Sunset & PCH).  But, still, I had never tasted the (sorta) frozen coke and cherry goodness until a fateful day last week.  I quickly became consumed.
Oddly, this new found obsession with Slurpees drew me to Hollywood's brand new local/eco-friendly "conscious convenience" store, Locali.  See, I heard they were serving organic slushies. Enough said.  And the shop proved even more promising when I arrived and discovered other elevated versions of convenience store grub like fresh baked hot pretzels, grass-fed beef and tofu hot dogs, organic tamales and local beers and wines.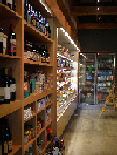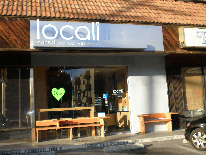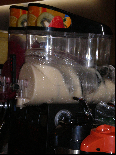 Don't be fooled by the location: in LA, mini-mall destinations can be high-end and chic.  Decked out in light woods (largely reused/recycled) and offering composting facilities and specially filtered water for anyone with an empty agua bottle, Locali is just a pleasant place to drop in.
Andrew insisted on sampling the vegan-wannabe Slim Jim called a Primal Stick.  BIG mistake (duh): the only primal urge it gave him was to gag; and this from someone who ate my nasty "Home Quick Fire" cookies).  Although, in a moment of hungry desperation, he ate the rest of the stick a few days later and said it wasn't that bad.  Eh.  Maybe if you haven't eaten meat in a really long time. Primal Stickeeee.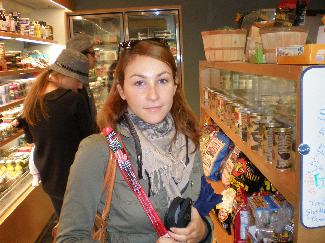 (Me at Locali with Andrew's Primal Stick–yup)
But, anyway, the hot pretzels were crusty and warm and the upscale slushies (in flavors like grape ginger and coconut) were a tiny bit spicy with a nice not-too-icy consistency.  Locali carries other types of organic products too like hand-milled soaps.
Meanwhile, on the beachier side of the city . . .



(Fig's warm bread and arugula butter, charcuterie plate and homemade pickled veggies)
New Frenchie, simple, seasonal restaurant at Santa Monica's Fairmont Miramar Hotel & Bungalows, Fig, is opening tomorrow.  The restaurant is literally market-to-table, as Chef Ray Garcia frequents the famed Wednesday Santa Monica Farmer's Market, just minutes away.
I stopped into Fig for a preview last week and totally recommend the Elderflower Royale cocktail created by famed British Mixologist Charlotte Voisey. Andrew LOVED the chicken liver concoction (front and center in that charcuterie above) and I am a complete sucker for pickled veggies.  I couldn't be more psyched that pickling is trendy right now.  I hope it never goes out of style.  Yeah, I said it.
If you're not in the mood for a whole dinner to-do (or to spend as much $$), Fig also has a wine and cheese bar, where you can graze.  Over all, a charcuterie experience with cheese and cocktails is the way to go.
And on Beverly Blvd. right near my very own little Third Street hood (West Hollywood-ish) . . .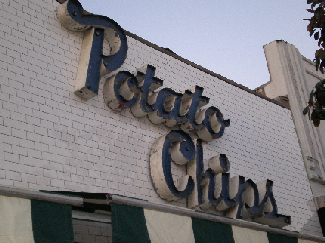 Tapas fave Cobra & Matadors' adjoining wine shop, known for their selection of lesser known labels, Potato Chips (formerly Bicentennial 13), is revamping and will soon launch a sandwich shop menu.  And, as Blackburn & Sweetzer reports, another locavore sausage spot, Golden State, is opening soon nearby on Fairfax, just above Beverly Blvd.  (Now sausage, that's a primal stick).
Not surprisingly, local, simple, fresh, organic chow is what's on the menu at LA's newbie spots.  And, if all this talk of food has made you hungry, well, I guess that's only natural.
Sorry.  I couldn't resist.
xo – Neeeeeee.
P.S. I promise only Mondays will ever be this long . . . I know I'm breaking the cardinal blogging rule of short posts.  So long.  So long!