LA (AND BEYOND): THE BEST CHICKEN POOP LIP JUNK
By Nora Zelevansky / February 2nd, 2009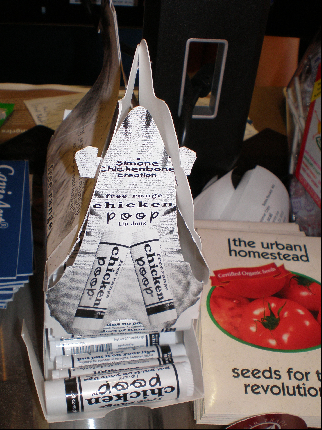 (Chicken Poop on Locali's Impulse Buy Counter)
Poop isn't something one generally dreams of slathering onto the face

(especially around the mouth).
And, yet, I want to rub it all over my lips and scream "I Love Chicken Poop" from the rafters (of a barn, mais oui).
Yeah,
Chicken Poop Lip Junk
is actually an all natural spa-scented Chapstick-esque miracle–created by a former farm girl with
jojoba, beeswax, lavender essential oil, soy and sweet orange
–that I tried a few years ago and think is 
out of this world 
in both the scent and texture department.  It totally smells like relaxation.  I mean, how can you not be a sucker for sweet orange?
Anyway, I was reminded of Chicken Poop recently, when I spotted a box at
Locali
's checkout counter. The company,
Simone Chickenbone
, is actually Kansas-based, but it's available here.  Highly recommend.
Most of us neurotic ladies have have a makeup item we can't leave home without.  Mine is DEFINITELY lip gloss or balm and this might actually be my favorite all-time Chapstick-esque situation.  Just thought I'd share the love.
Love of poop, that is.  Yum.
xo – N.
Related stories: