LA (THIRD STREET): THE BEST SUSHI LUNCH
By Nora Zelevansky / February 27th, 2009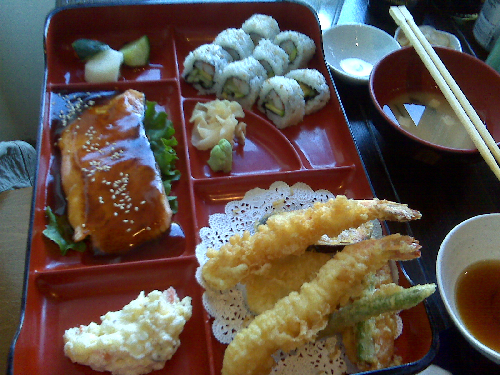 (Chicken Teriyaki and Tempura "Lunch Box" At Izakaya By Katsuya–Forgot My Camera Again, So Thank You, Blackberry)
So, in these rough times, we have to make certain concessions
, cutting out pricier indulgences like our forty-fifth pair of
amazing boots
, overpriced potato salad with wilted arugula, avocado and lemon vinaigrette (Oh, how I love you,
Joan's On Third
), the gym membership we use
maybe
 once a month on a guilty Sunday and, worst of all, our daily dose of sushi.
Well, good news: good sushi is no longer astronomical.  Okay, it sort of still is, but we really weren't giving it up anyway, right??  At
Izakaya By Katsuya
on Third Street (one of LA's BEST sushi spots), turns out they have these unbelievable lunch deals: for between $8.50 and $14 you can have a huge sushi or hot Japanese lunch.  I mean, are you kidding?????  Why didn't I know about this sooner???
Today I checked it out with my friend Candice of iStyleThis fame.  She got the Miso Cod & Tempura "Lunch Box" and I got the same, but with Chicken Teriyaki.  If only lunch boxes were always this good. Instead, growing up, I had brown paper bags filled with health food store peanut butter and honey sandwiches on wheat bread and an apple.  No, thank you, I'll take the sushi instead.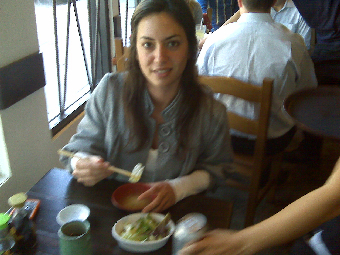 (See, Candina happily eating that salad up?)
First of all, the salad dressing is insanely tangy and gingery and delish.  It costs a couple dollars extra to order your California roll with no mayonnaise (if you go the Cali route over Spicy Tuna), but if you're a mayo-phobe like moi, it's worth it.  We happened to get cooked food, but you can also get all sushi or sashimi.  Plus, Katsuya is not as loud and crazy crowded during the day, which is nicer anyway.
All I'm saying is, in these rough times, I'll take any ray of hope I can get.  And I ain't giving up my sushi anytime soon.
xo – N.