LA (WESTWOOD AND BEYOND): THE BEST READING
By Nora Zelevansky / February 12th, 2009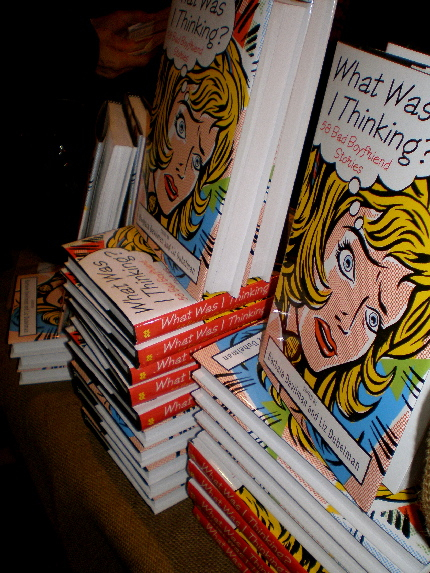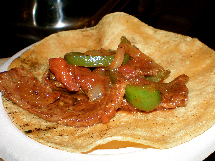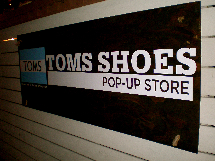 (At this book party, organic-friendly
Green Truck
served up pretty yummy tacos, although I heard they recently got snubbed in favor of the Korean
Kogi Taco Truck
that's all the rage by LA Weekly's
Jonathan Gold
).**
So, it's self (and friend) promotion time . . . sorta.  A couple weeks ago, I attended a book party at Venice's
TOMS Shoes
 (buy a pair and automatically give one to a child in need) Pop-Up Store on Abbot Kinney for a (mostly humorous) essay anthology called, "
What Was I Thinking?
"  Basically, each essay reveals a different woman's experience with the moment she knew a relationship was over.
Sound heavy?  I guess it could, but most of the stories are long past (gathering levity over time, as these things do) and also they chronicle transformative moments.
ANYWAY, although I didn't write a chapter for the book, I'll be reading a personal essay on the topic along with a bunch of the book's authors (info below).  Whether you check out the reading or not (and there are readings going on in other cities like Portland, NYC, Boston and Chicago too, I believe), the book is worth a gander.
Meanwhile, the more I think about getting up in front of people and reading, the more I wonder what 
I 
was thinking . . . just another transformative moment one hopes.  Eh.
xo – N.
**For insider taco info check 
LA Taco
, a site dedicated completely to LA taco culture.  LOVE!
Sunday, Feb. 15, 2009
Border's Books in Westwood at 2pm and 3:30pm
1360 Westwood Boulevard (Second Floor)
2:00 PM Show
1. DORIT SIMONE K.F. -  Cuckoo for Cocoa Puffs
2. JUDITH DEWEY  - The Unibrow Breakup
3. KATHERINE TOMLINSON  - Bah Humbug
4. MONICA REGAL  - Funny Boy
5. AMY TURNER   -  Dark Bill
6. BONNIE BRUCKHEIMER -  Handsome
7. MARY JANE MORRISON  -  Signs of Doom
8. WENDY HAMMERS  (HOST) -  Salad Bars with No Vegetables
9. RHONDA TALBOT -   Revenge Baby
10. MARY FEUER 4 Valentine's Day at the Psych Hospital
11. AMY FRIEDMAN  -    Pre - Med Fred
12. CINDY CHUPACK -   Oh, How we Love Bad Boys
13. AMY WRUBLE  -   The 40 Year Old Loser
3:30 PM Show
1. ZOE BRAVERMAN  - Gaydar
2. TINA DUPUY - And then Matt came back  
3. SARAH REINHARDT - The Politician
4. DEBORAH KAGAN - Smash up
5. FRANCESCA LIA BLOCK  - Shaking
6. MARYEDITH BURRELL  - An Affair to Forget
7. BETTY GOLDSTEIN  -  Opera 
8. CLAUDIA HANDLER  -  Star Light, Star Bright
9. KATHERINE RUPPE  -  Open Season 
10. NORA ZELEVANSKY -  Nipples and Nightgowns
11. MARY MARGARET MARTINEZ  - The Idealist