LA (BEVERLY): THE BEST RIBBON DRESSES
By Nora Zelevansky / March 17th, 2009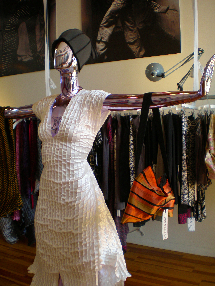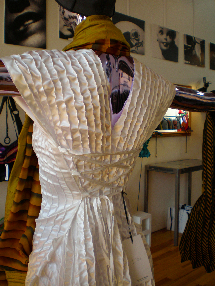 (Kao Pao Shu Ribbon Dress; Front & Back)
Like most cities, LA has an unofficial uniform
; and that uniform involves more jeans, pastel tees and flowing maxi dresses than it does dramatic black capes or asymmetrical pantaloons.  Perhaps the relaxed style is driven by mild weather or the mellow vibe.  For whatever reason, though there are naturally exceptions, LA's signature style is not known for being extreme or particularly intense.  And, lest you try to argue that skull bedazzled wife beaters or cleavage-revealing shirts are edgy, let me remind you that there is a difference between forward fashion and, well, trying too hard.
So, when I arrived this week for a Fashion Week preview at newish boutique
Kao Pao Shu
, I was surprised: designer Naida Begeta hails from Sarajevo (via Milan) and sews all of her (mostly one-of-a-kind) avant-garde pieces herself.  Her interest in fashion tip toes into the arena of conceptual art, as she's motivated as much by an interest in the idea of unbroken lines (and using uninterrupted strips of found fabric), as by silhouettes.  Kao Pao Shu's name was inspired by an actress in a kung fu flick and, whether Begeta intends it or not, her style does seem sort of wacky in an Asian-inspired way.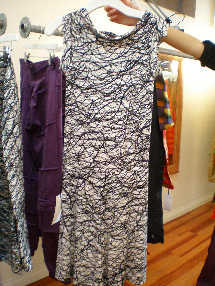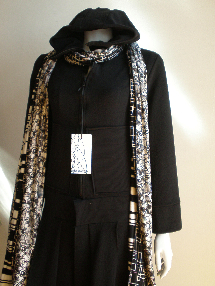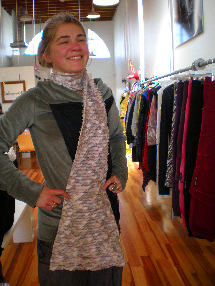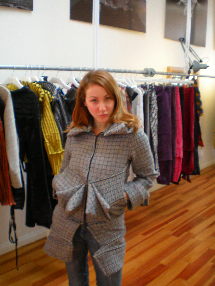 (Designer Naida Begeta In One of Her Scarves and Me In One Of Her First Fall/Winter Jackets That Riffs On a Classic Plaid or Tweed)
While she started out making bags, for me, Begeta's interesting pieces are her ribbon dresses, textiles designed from her sketches (upper left hand corner) and jackets (the first sneak peek into her fall/winter collection).  As I've mentioned before, my style skews more classic.  So, Kao Pao Shu might seemingly appeal more to someone like my
Comme des Garcons
-loving, contemporary curator mother or seem most appropriate on a runway.
But, you know what they say, sometimes you just have to go to extremes.
xo – N.
P.S. Keep your eye out for info on a
LACMA
Muse event on April 5th at the Kao Pao Shu boutique.