LA (FASHION WEEK): THE BEST PEEK AT FALL'S JEANS
By Nora Zelevansky / March 12th, 2009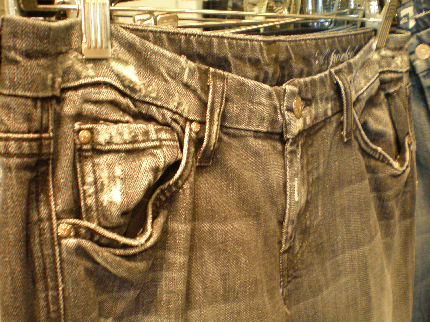 And so it begins.
LA Fashion Week
is upon us.  Though I love a
good
 (emphasis on
good
) fashion show as much as the next girl, when it comes to this style-crazed period, I often favor the less frenetic events, held in more civilized style, off
Smashbox
campus.
As this is LA, the jeans and tee capital of the world, 
7 For All Mankind
's Preview on quaint Robertson Blvd. is generally one of the first pre-FW events I attend and this year was no exception: 
Blackburn + Sweetzer
and I bravely bypassed some pretty scrumptious looking eclairs (yum!) and giant chocolate-covered strawberries for the racks of fall collection jeans.  (I'm just glad the cupcake-obsession is finally dwindling).
I bypassed pink cans of
Sofia Coppola
champagne too. Good little POCKET LINT.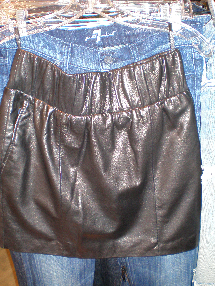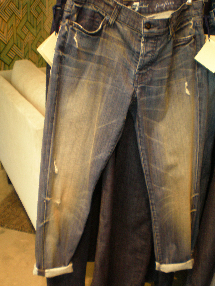 (On A More "Of The Moment" Tip: Leather Skirt and Josefina Boyfriend Jeans)
I'm already a 7 girl, when it comes to basics.  My two favorite pairs of jeans are a classic straight leg and an old school trouser.  But I was definitely curious about how they were handling this particular season, as the trendier stuff can be hit or miss: the leather skirt above was really cute (although high-waists are difficult for naturally high-waisted Urkels like me, who can't really tuck things in without looking torso-free).
I didn't try on this fall's boyfriend, but I threw on the Josefina boyfriend that's out right now and it didn't quite work for me.  I think maybe if your skinniest feature is your legs, obscuring them in a carrot-shape may not be the ideal thing. (DUH).  But I also thought that fall's version just looked like it hit the mark more successfully (see above), so stay tuned.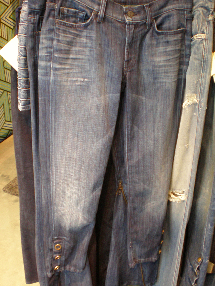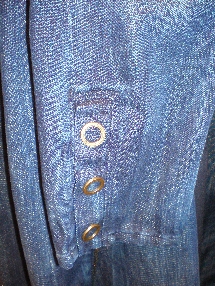 (Roxanne with Gromet-Style Snaps) 
Some of the skinny cropped Roxannes were pretty cute too with zippers at the bottom (my favorite!) or the above types of gromet-like hardware.
But, most of all, B + S and I fell hard for something on the men's side: a
PERFECT plaid shirt
(all soft and pretty and blue) that we, of course, wanted for ourselves.  Fortunately, the saleswoman informed us that the plaid shirt (which will also be available in women's sizes–yeah!) will be landing in stores as early as July.
So, I guess you'll see me there; in 7th heaven (sorry–I couldn't resist).
But not if I see you (and the plaid shirt) first.
xo – N.