LA (FAIRFAX): THE BEST BEER AND CUCUMBER SALAD
By Nora Zelevansky / March 23rd, 2009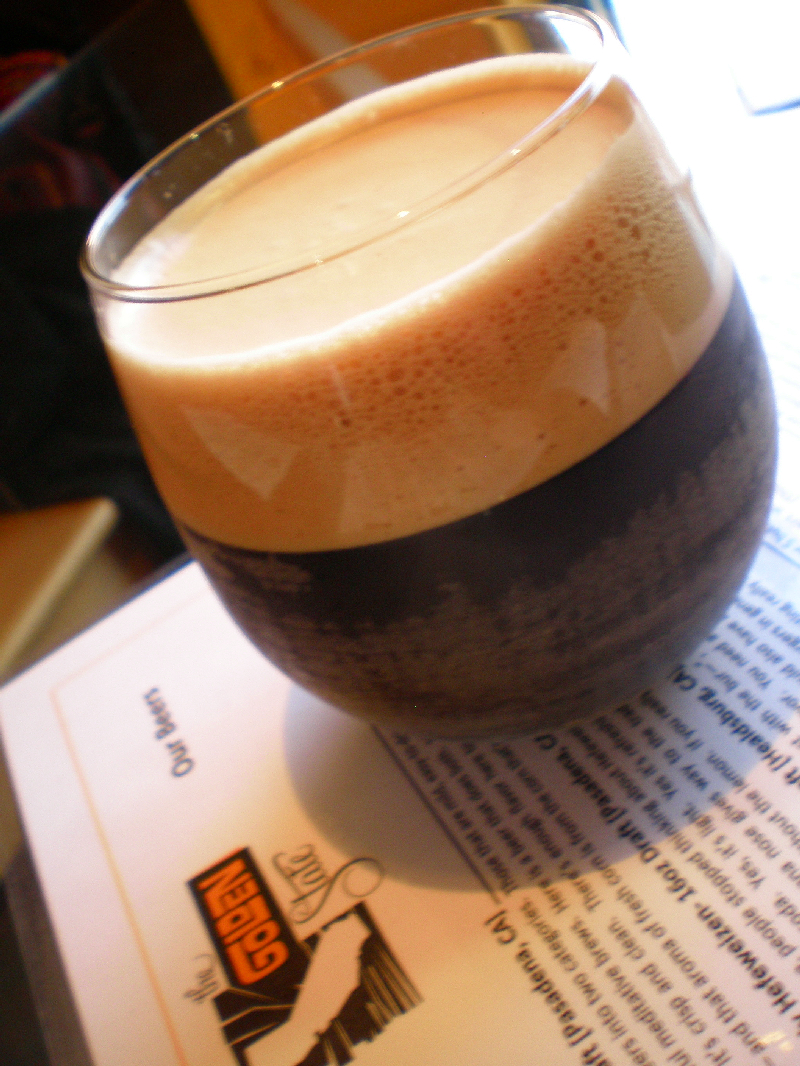 (Golden State's North Coast Old Rasputin Russian Imperial Stout)
Disclaimer: I'm really stupid today.
On Friday, I stayed up all night with Andre The Giant (that's The Drewser to you) belting out 90's grunge on Guitar Hero World Tour), while
Mina the Cat
growled at me and threatened attack.  For some reasons, she gets really angry when I sing (only me) and growls like she's possessed by demons; rock n' roll demons, no doubt. Certainly not a comment on my melodic vocals.
On Saturday, I did an alcohol-filled walk-thru of soon-to-open
Westside Tavern
(more on that later this week) and ended up drunky by noon; just in time to go shopping and set up for M.'s very civilized, tiny "Very Very Un-bachelorette Extravaganza."  We sang karaoke on
a rented machine
(see K.'s pic of me as one 
unsuspecting karaoke princess
, uploaded to FB real time without my knowledge), drank lots of liquor (including a Sofia Rosé that I absentmindedly ruined by chilling in the freezer nor fridge.  What?  I admitted that I was drunk during set-up!) and grabbed late din-din at
Comme Ca
.
The point is: I'm tired, a bit hungover and not a little bit slow today, so bare with me.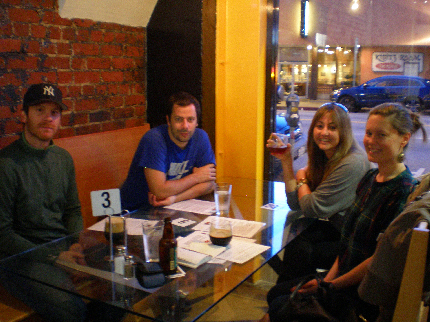 (P.S., Drewser, A.L. and M. "The Karaoke Queen" at Golden State on St. Patty's Day)
Last week, Andrew, P.S., A.L. and M. "The Karaoke Queen" and I checked out
Golden State
on Fairfax firsthand.  I know bloggers have buzzed about this new spot (especially about the long-anticipated opening itself), but I always feel like I need to get (and give, if anyone cares to listen) my own well-researched impression.  Also, I have to use THE POCKET LINT as an excuse for scarfing massive amounts of fried food.
I'm still loving this inexpensive upscale bar food movement, but all these burgers, sausages and fries sure help one pack on the poundage.  Apparently, "organic" and "local" doesn't equal "fat free."  If only I was trying to make weight (in a higher weight class) for wrestling.  Which reminds me: I've always loved eating yummy food, while watching
Top Chef
(for obvious reasons), but can someone explain to me why I so love eating a bunch of grub, while watching
The Biggest Loser
?  I'm like on my couch with inhaling french fries and yelling: "C'mon, Purple Team!  Bob says workout harder! It's 'Last Chance Workout' Time! Listen to your trainer! Do you want to go
home
? Chomp. Chomp. Pass the SPAM, Drew."
But I digress.
At
Golden State
, ordering is done at the counter.  The system works really efficiently too, as you can open a tab and keep coming back ("keep on going," as I called it as a child), as if you're at a bar.  Not that I was drinking as a child.  I'm just saying: how much less likely are you to forget your ATM card when your buying food instead of metallic vodka tonics at some dark club?  Ah, the good old days.
The Golden State folks (including a few guys who seem to be hands-on owners) are
incredibly
friendly and helpful.  They immediately recommended specific beers based on our respective tastes sans 'tude, including especially rare offerings from a special St. Patrick's Day menu.  Lately, as you guys know, I'm really into dense Guinness-like stouts and such, so they gave me the above 
North Coast Old Rasputin Russian Imperial Stout
(from their regular menu) inspired by 18th century English brewers served in a stemless wine glass, which I have to say I just loved aesthetically.  I mean, how compact and creamy does it look?  It tasted
that
good too.
Wait, I'll show you again, even closer up: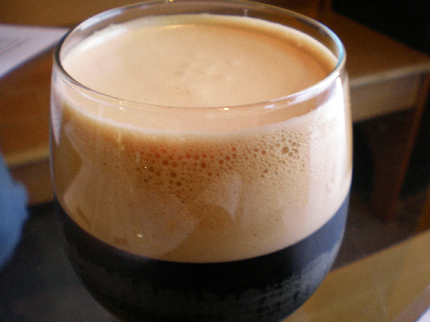 Golden State's specialty is locavore Cali goods, so this brewsky (can you say brewsky outside of Chi Town?) is brewed in state, of course.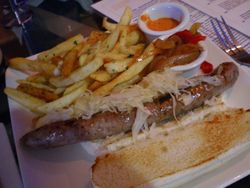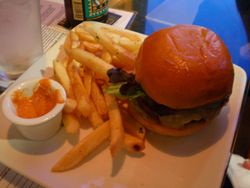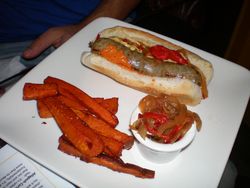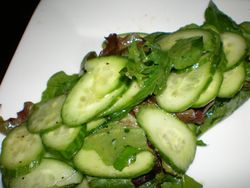 (CLICK IMAGES TO ENLARGE: Bratwurst, "The Burger," Spicy Lamb Sausage 
W/ Sweet Potato Fries, Persian Cucumber Salad)
A.L., M. & P.S. all had "The Burger," which came with
Harris Ranch
beef, 
Fiscalini
Farmhouse Cheddar, Brown Sugar Glazed Bacon, Arugula and Housemade Ketchup and Aoili (which is fancy code for "Mayo," let's just go ahead and put that out there, ending the oppressive silence).  I actually think that, in addition to my yummy beer and Persian Cucumber Salad With Shahi & Lemon and Jalapeno Cabbage Slaw sides that sort of rocked my world, the smoky flavor of the burger was uniquely delicious in LA's great burger landscape.  I'm just saying.
Another plus in my taste-test crazed mind: a condiment bar filled with tons of mustard and ketchup options ranging from Curry Ketchup to Spicy Mustard and even Hazelnut Romesco.  Shut up.  Shut up. Hazelnut Romesco!
Everyone was delightful and so was the chow, including my Let's Be Frank Brat (which was surprisingly thin not fat) with kraut (um, $6 for the whole shabang!!!) and Andrew's
Huntington Meats
Spicy Lamb (from LA's
Farmer's Market
).  The Drewser's one complaint: too few sweet potato fries.  But maybe that ultimately helps with that packing on the poundage problem?  Just ask Bob from
The Biggest Loser
.
And, with that, I'm out.  Gotta go recuperate on the couch.  Ahem.  And by that I mean, workout at a really hard pilates class.  Suuure.
xo – N.