LA (MELROSE): THE BEST FRIED OLIVES
By Nora Zelevansky / March 12th, 2009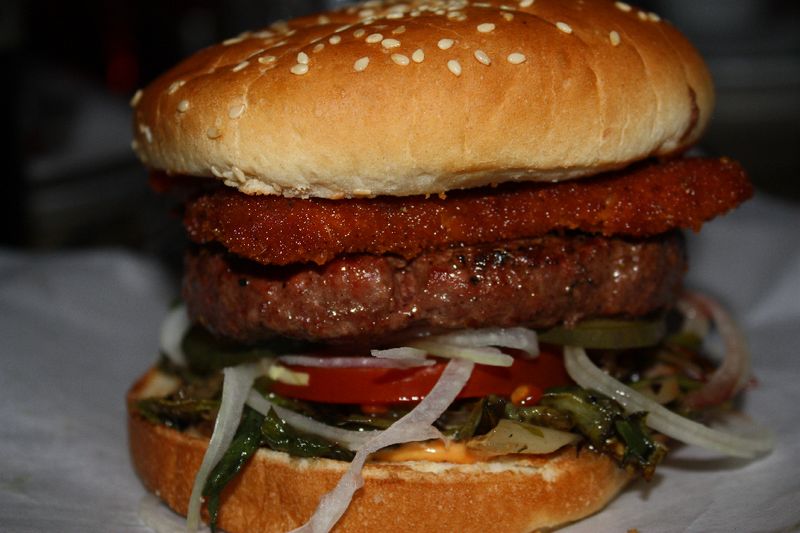 (8 oz's Estancia Grass Fed Beef Burger/Photo By Zora Ginsburg)
Now, I know what you're thinking:

"

W

here the hell are the fried olives?
  That looks a lot like a
hambu
rger

."
Dude.  Chill out.
No, the truth is, you're right. How can I claim to have found "The Best Fried Olives," without so much as a picture to show for it?
Well, I'm not going to make excuses (that would be lame . . . r), but let me explain: the sordid tale began last Friday night, when, feeling in a particularly classic LA mood, some friends and I grabbed drinks at
The Chateau
to celebrate our pal P.'s new job.  After much vodka, rosé and beer was consumed (not by the same person, although that would be impressive), we were staaarving, so we headed to my latest favorite upscale street food spot
8 oz Burger Bar
.
It had been awhile since I showed up at a resto snockered at midnight to scarf anything and everything in sight.  I'd forgotten how wonderful that experience can be.  In fact, largely thanks to drunken ordering (uninhibited by finance, calories or anything else that ceases to exist in a buzzed world), we did it up right.
First, we ordered (duh) the Fried Green Olives stuffed with chorizo and fried spinach flakes (yup), a strawberry shake, great local beers on tap, Fried Pickles, Truffled Potato Skins and (at the suggestion of the clearly Mensa waiter) a signature Short Rib Grilled Cheese to be divided seven ways.
Obviously, this all got eaten before I remembered that I even had a blog, let alone that I should take pictures to document the experience. But I did steal these images from their website:


(Fried Olives and Truffled Potato Skins) 
The Fried Olives are always (not that they've been open that long) my fave here, but everything else was also delicious.  In fact, the Grilled Cheese was so appreciated that some people ordered that as their main dish in addition to the appetizer nibble.
Luckily, Z. had her shmancy camera, so her burger was documented (see above).  There's a "build your own" situation here or you can just play around with some of the pre-planned recommendations.  I can't even begin to list all the amazing sauces and toppings offered at this organic-happy, free-range, farmer's market joint, but suffice it to say that Z. ordered the Estancia Grass Fed Beef Burger with heirloom tomato ketchup, garlic aioli, onion, pickle, charred escarole and (her brilliant addition) a big fat square of fried mozzarella on top.  I mean.  C'MON.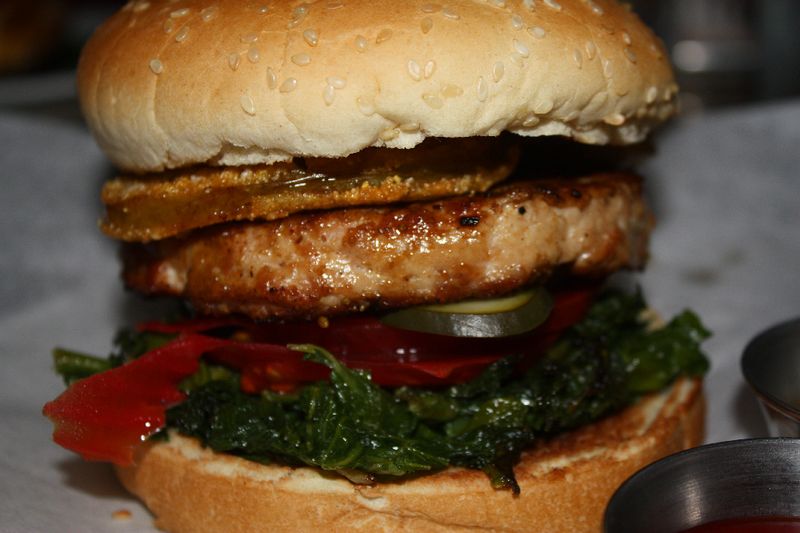 (My Turkey Burger/Photo Also By Z-Dog Ginsburg)
And lest you try to argue that a turkey or veggie burger is not worthwhile, above is Exhibit A, proving that free-range turkey burgers hold their on.  Mine came with sauteed mustard greens (which are a little bitter like collards—yum), horseradish dijonaise, pickle and I added (drum roll please) a fried green tomato on top.  I mean, shut up.  SHUT UP.  So good, right?
Anyway, while I must apologize for not thinking of you all and not properly documenting the bestest fried olives around, at least it meant you got some real quality time with the 8 oz burgers.
And that's got to be worth something, no?
xo – N.
P.S. Next stop
Umami
. . .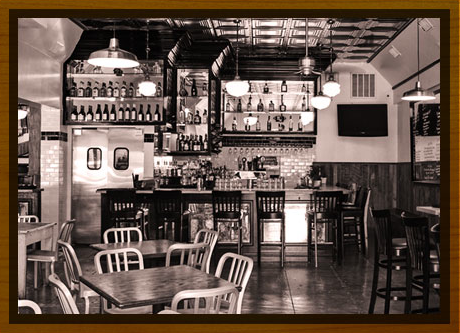 (8 oz's Industrial Bistro Eco-Conscious Decor–Gotta Love)