LA (S.M. & BURBANK): CRUMPLED TWENTY
By Nora Zelevansky / March 16th, 2009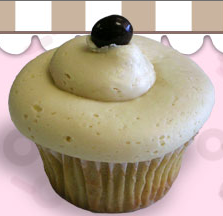 I know, I know–I'm a hippo.  Not
that
kind of hippo.  More like a big ass hypocrite; who says one thing and does another.  Here I am, just moments after dissing cupcakes, writing about them once again:
Blame
LAist
, who blogged today about a super unique St. Patty's day treat:
Yummy
's Guinness Cupcakes.  How amazing does that sound?  How could I not share?
I think I'm on a major rich beer-as-dessert-course kick, having recently chugged a coffee bean-brewed stout at newly opening resto BoHo, lovingly sampled beer soaked sheep cheese at
Joan's On Third
and fondly reminisced about Guinness ice cream floats we tasted at
Pix Patisserie
during a snowy winter road trip last year to Portland, OR.  
Sigh
. Dreamy.
I say, try bringing him a Guinness cupcake.
I know that would win me over.
xo – N.