LA (THIRD STREET): THE BEST WAY TO ROLL
By Nora Zelevansky / March 11th, 2009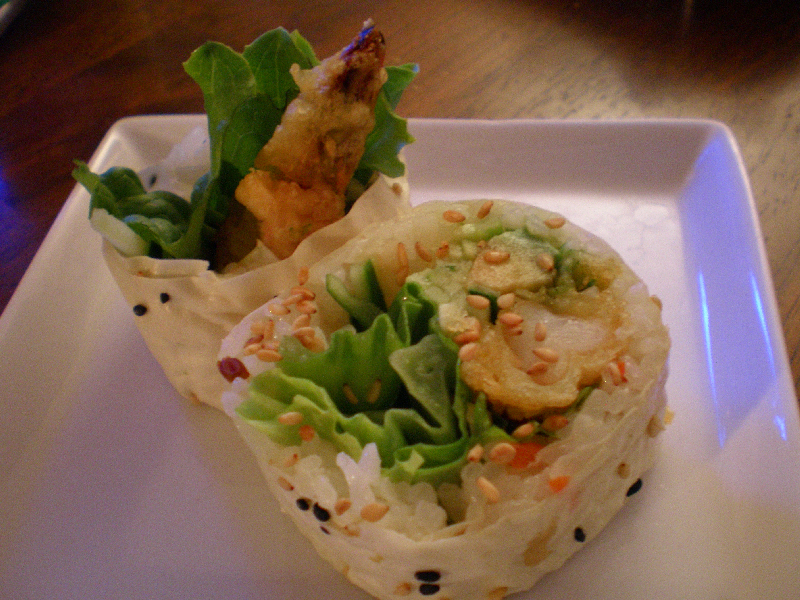 (Mishima's Shrimp Tempura Roll With Soybean Paper and No Mayo–YUM)
Sushi purists rebuff rolls.
 I suspect these are the same people who
willfully avoid owning TVs
, claiming that they just "don't have time to watch" and find it boring.  That's their biz, but, personally, I'll find the time for a sushi roll and some mind-shmooshing TV any night.  Life is short.  I'll
make
 the time.
The way I see it, no one preparation of sushi/Japanese fare (sashimi, sushi, rolls, noodles, cooked dishes or Izakaya) is superior to another because each category suits a different mood.  Luckily, LA is a sushi-rific city.  So, assuming money is no object (c'mon Google Ads–big money!), when I'm dying for sashimi, I might hit Studio City's
Asanebo
, Malibu's
Nobu
or West Hollywood's
Matsuhisa
.  For Izakaya or Robata, I might hit
Yabu
on La Cienega,
Katana
on Sunset or amazing lesser known
Sasaya
on Santa Monica Blvd. in West LA.  For noodles, I go no further than
Sawtelle
; for sushi (and spicy tuna rolls),
Hama
downtown in Little Tokyo.  For a chef's choice Omakase, I'd hit
Nozawa
or
Sasabune
.  And, for rolls, well, I'd venture out in my very own hood.
For some reason, the block that runs parallel to my house on Third Street is all about the Asian food. And, in this one block stretch, live some of the city's best sushi rolls, which range dramatically in price and style.  Exhibit A is
Mishima
's large Shrimp Tempura Roll (above) with fresh avocado and wrapped in soybean paper. (If you haven't already tried soybean paper, leave your home immediately and head to the nearest sushi spot that serves it up–you've been missing out).  Mishima's spicy tuna is awesome too and, though it's not technically a roll, the California Soba Noodle Salad with crab, avocado, egg and tobiko caviar is amazing!  The restaurant itself is inexpensive and a stark, sparse space, but nice enough for a casual lunch or dinner.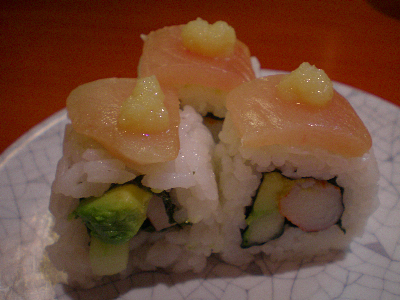 (California Albacore Roll With Garlic)
In the same mini-mall lives a roll that some might find controversial: the California Albacore Roll with Garlic.  I'm not going to lie.  It's not high-end.  This roll is found at
Sushi Mac
, which is a conveyer belt sushi spot with no conveyer belt.  That is to say that it's a step above fast food: the music is bad, the ambience is nil, the crab is krab and, let me tell you sushi snobs, the California Albacore Roll is effing AMAZING.  So delish.  And, naturally, it's cheap as shite at $2.75. YUP.
Directly across the street sits LA scenester standard,
Sushi Roku
.  Though many a cooked entree is worth sampling here (as are the sake martinis), the Rock Shrimp Tempura with Jalapeno Roll and the Baked Crab Roll top the must-try list.  I mean, they just speak for themselves.  (Actually, the Baked Crab Roll at
Cafe Sushi
–a block away on Beverly Blvd–is pretty damn awesome too; maybe even better).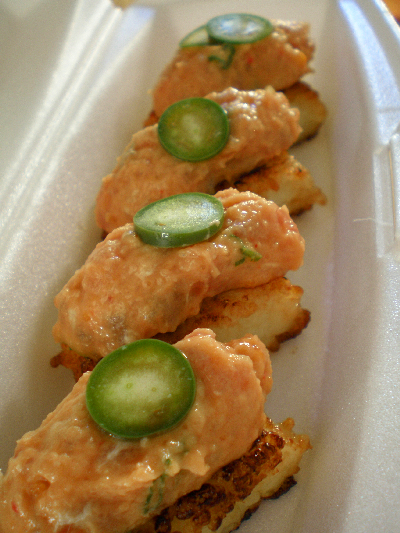 (Katsuya's Spicy Tuna on Crispy Rice)
Many an LA sushi spot has tried to replicate the Spicy Tuna on Crispy Rice, found just down Third street at top spot
Izaka-ya By Katsuya
(read the Daily Candy by moi).  Other restaurants' versions always taste good, but never quite match up to the original.  Though this annex is not the first Katsuya or the sceniest one, it's the most desirable for
lunch
, I think.  The Albacore Sashimi With Crispy Onions, Yellowtail with Jalapeno (which I think of as a Nobu original) and the Izakaya Roll are also delectable; but, then, most everything here tastes delish.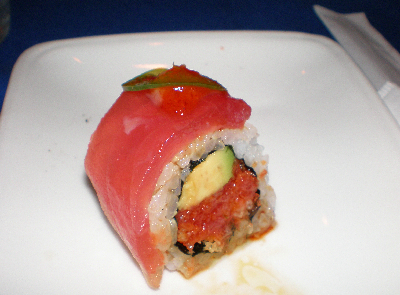 (Boss Sushi's Nate Blonde Roll)
Two other restaurants definitely bare mentioning, although they're not in the immediate vicinity. First,
Boss Sushi
–which is a middle-of-the-road spot on a random stretch of La Cienega–offers up the tangy and tasty Nate Blonde roll and the sort of fluffy Gunn Brothers, plus interesting sushi like Salmon and Mango with olive oil and sea salt (and I'm not usually a salmon person) and Albacore with Basil.  They actually play quite a bit with olive oil and balsamic vinegar on their sushi and it actually works out wonderfully.
Last (but definitely not least) is
Nagao
in Brentwood.  This little place is actually an under-the-radar hot spot, below a chic yoga studio, and the owner/sushi chef offers up some of the best rolls I've
ever
had: Moonlight #3, Lemon Box (ask for "thinly sliced" salmon, so it's not too intense) and the buttery Garlic Albacore Sushi that melts in your mouth.  It's all just amazing; here are pics on my friend
Rachel's site
.
Anyway, in Cali, that's just how we roll.  Third Street-style.  Represent, yo.
xo – N.