PALM SPRINGS: THE BEST KUMQUAT MARTINI & SPA TEA
By Nora Zelevansky / March 6th, 2009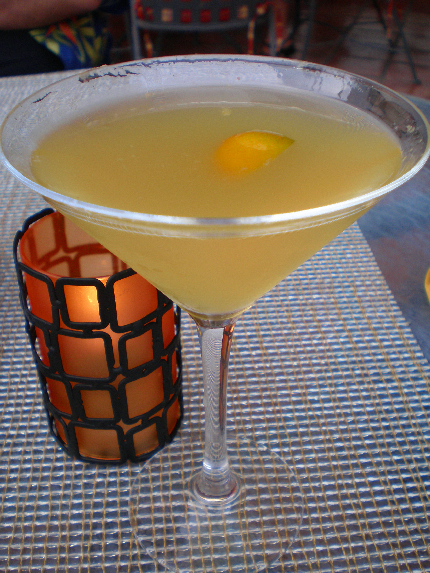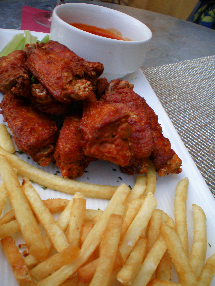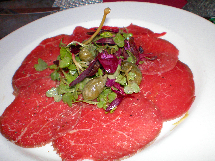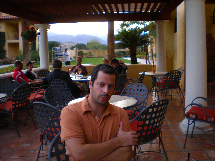 (Miramonte's Kumquat Martini, Magical Hour View, Chicken Wings a.k.a. Andrew's Favorite Eat Of The Weekend, Carpaccio With Caper Berries–YUM–and Andre at The Vineyard Lounge, Still Looking A Bit Tense Post-Drive)
Sometimes, mid-winter, one just needs a break from SoCal's treacherous 70-degree weather.
  Poor Angelenos, stuck in the frigid cold.  So, last weekend, we (and some wonderful travel companions who prefer to remain hush hush) headed out to dreamy 85-degree Palm Springs for a little lolling poolside.
No, but seriously, I was sad to miss the pretty east coast snow too.  Sometimes you just crave a little weather, one way or the other.
Anyway, we landed in Indian Wells/Palm Desert (actually about 20 to 30-minutes from Palm Springs) at the recently renovated resort,
Miramonte
.  (If you want more info on developments in the Palm Springs resurgence from cool kid
Ace Hotel
to new
Riviera Resort & Spa
, here is a link to a
Palm Springs design story
I wrote not long ago for
Hospitality Design
).  I'd heard rumors that Miramonte's Kumquat Martini (served at The Vineyard Lounge and at newly re-conceived eatery The Grove Artisan Kitchen) was must-try.  Turns out the buzz was deserved: we settled in for cocktails upon arrival (how better to ring in a weekend escape?) and found the drink not overly sweet with a delightful, tangy half kumquat floating atop.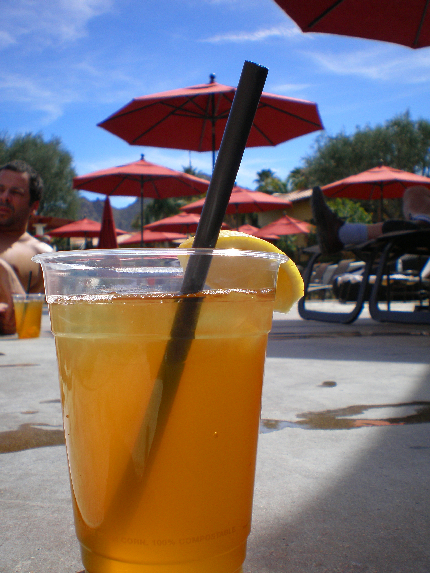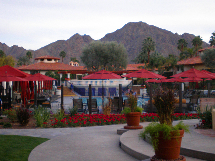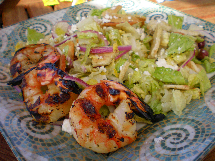 (Passion Fruit Iced Tea, Pool From Afar, Yummy Fatoush Salad Poolside)
Pool-time the next morning: In lieu of breakfast, I opted for an early lunch while sunbathing (heavy SPF, of course) and the food was delish, as were the comfy lounges.  But this was a weekend of wonderful beverages (including a pricy wine ordered accidentally the night before–#48 from Castelli's wine list, though I would NOT recommend the restaurant), so I need to highlight the totally refreshing passionfruit iced tea.  I mean, really what could be better on a warm Palm Springs winter day?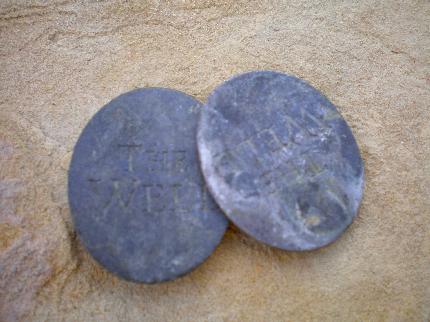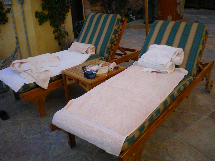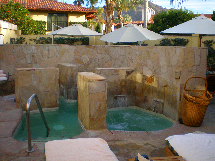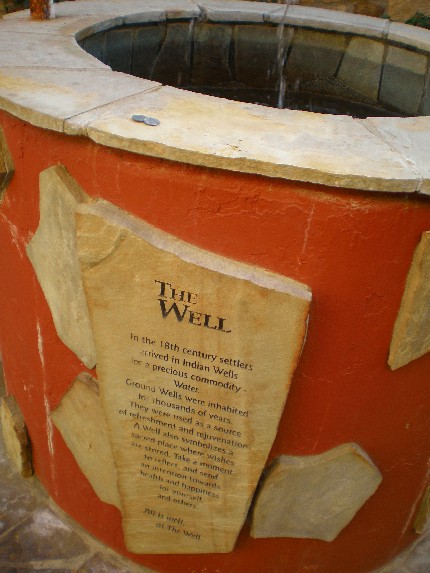 (The Well Spa's Wishing Well Tokens, Spa Lounges, Salt Water Hot Tubs and The Wishing Well Itself)
Well, no resort weekend is complete–in my overly pampered book–without a spa treatment, especially when the hotel is known for its services.  Now, I spend an inordinate amount of time at spas for work (I know, rough life), so I'm not so much particular as hyper aware of a given haven's offerings.  In my humble opinion, a spa's success is all in the minute details.  I mean, I could write a book on spa water and robes alone.
And The Well Spa did not disappoint: the robes were thin and buttery soft (pockets would make them perfection), the spa water was amply cucumber and citrus-infused (and was also available at the pool), the eucalyptus steam room was truly steamy and tiled in pretty sea tones (although I'm so clumsy that I managed to knock my head on the ceiling–how do I do these things?), the towels were fluffy, the sandals came in actual s,m,l sizes, complimentary hair ties served me well in a pinch (although they're scrunchies–eek), the refreshment counter offered up dried fruit (I hate when they starve you) and the MOST DELICIOUS chamomile lavender tea with lavender picked from a nearby farm.
Andrew thinks tea is an
Emperor's New Clothes
phenomenon–just watery and bland, but I am in love and drink herbal versions every single night.  Gee, I wonder who has the more developed palate?  Just saying.
I had a Cobblestone Massage (as in Hot Stone), which was nice.  I'm usually a lotion over oil fan, but it's always oil with hot stone and they let me choose my scent (lavender always, unless there's orange blossom–I told you: I go to a lot of spas) and also my music, which I really appreciate.  My esthetician was a tiny bit heavy-handed, not in the massage arena, but when she sort of moved me around into position like I was a piece of meat.  But I know for a fact that this was an anomaly and it was still pretty relaxing.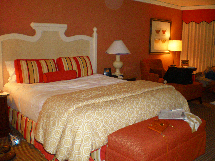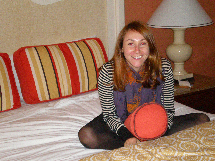 (Our Room At The Hotel–See My
Linea Pelle
Clutch On The Bench Totally Matches
)
The room itself was lovely and everyone on the first floor gets their own little patio, which is so nice! The hotel is not "cool" per se, but it's not stodgy either–it feels upscale and the service was great.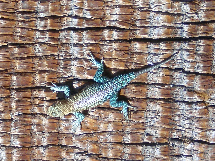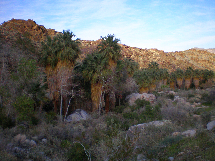 (A Granite Spiny Lizard Friend We Made At Indian Canyons)
After lunch at a biker bar (odd choice, but a long story and I've ramble enough), we headed out for a short hike near Palm Springs at Andreas Canyon in Indian Canyons.  The above pics don't do the oasis justice, especially this time of year when everything is so green.  We kept mumbling about how beautiful it was, as we wandered just before 5pm closing.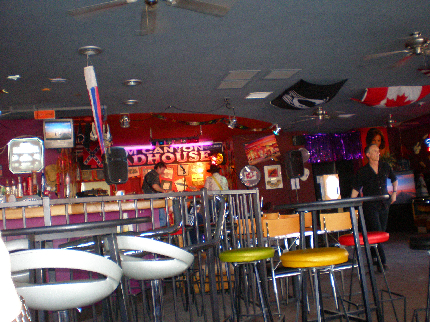 (Yup, The Biker Bar, Where "Easy Rider" Plays On Repeat, We Think)
In my experience, Palm Springs area food can be spotty (and pricey) at best (think banquet chow), but there are two restaurants where I've had good experiences: On Palm Desert's El Paseo, at
Armando's
Mexican Restaurant a few years ago, I tried Fajitas for the first time.  I know that's weird, but it's just one of those things.  Anyway, I've been eating them as much as possible ever since.  And, though it's kind of a fine-dining commitment,
The Colony Palms
' Purple Palm poolside resto in Palm Springs is yummy.
Palm, Palm, Palm . . .
On the way home, we always take the Apache Trail exit to Morongo Casino (for Andre), Hadley's (Dried Fruit and Date Shake shop, where they sell these rare black dates for my dad) and
Desert Hills Premium Outlets
(pour moi–but not to be mistaken with Cabazon next door).  We're talking
Barneys
Outlet, people!!!  I'm broke like everyone else and we were meeting people for lunch at
soup dumplings
, so this time we only hit
Hadley's
, but, as always, it was a tasty stop (though Andrew once had a scarring ostrich burger experience).  Maybe he just doesn't like ostrich.
Anyway, all and all, a loverly way to
play hooky
and a breather from LA's raw winter weather.  Life's hard in SoCal, no?
xo – N.