LA (GUINEA PIG): THE BEST EYELASHES 2
By Nora Zelevansky / April 22nd, 2009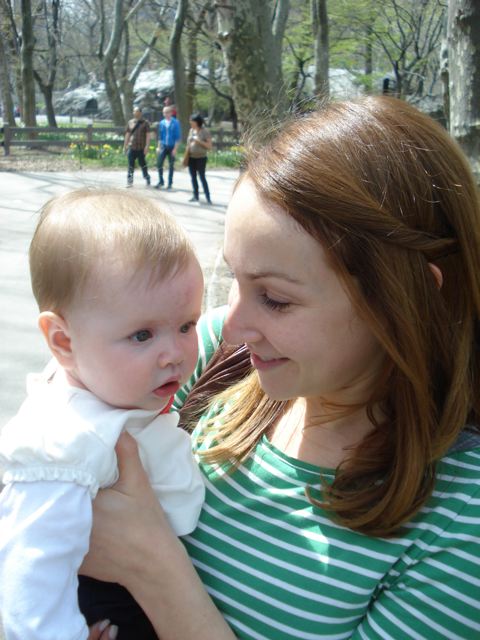 So, this week I had a baby. No big thang.
GOSH.  No wonder I'm feeling lazy about POCKET LINTING.  I'm exhausted.
No.  Just kidding.  I never feel lazy about blogging to you guys.  Okay, actually, I do feel lazy.  All the damn time.  But I am kidding about the baby thing.  In case you thought I actually had a baby; in fact,  I'm just tiiiired.
Anyhoooz . . . I just got back today from two weeks away in NYC and Miami (hence the east coast posts) and my voice sounds super manly (gotta love sexy voice) thanks to a sore throat.  So, today a short little post:
The above pic was taken on a beautiful Friday in Central Park, when S., C.C.R. & and I ran into some other friends and their new baby.  No, not mine (although she's sure cute enough to claim).  But my intention in posting this pic is actually not to show off a cute babe (in arms) or even to brag about my beautiful stroll through Central Park (ending up at Shake Shack, but we'll chat about that lates–promise).
Actually, I realized that I haven't followed up on my Revitalash challenge (partially cause I wanted to show dramatic results) and, though I haven't been quite religious in my application, I've been using the stuff almost every night for a month.  I saw this photo and was struck, yeah, okay, first by the adorable cutie, but then afterward by the fact that my lashes look a bit longer and thicker, no?
Soon I'll do a formal eyelash photo op, but I do think they already look a bit better, right?  Even being somewhat obscured by sunlight?  Maybe I'm just hoping against hope?  Or maybe, just maybe, my new and improved eyelashes are fab all the way home.
xo – N.
P.S. On an unrelated note, did anyone else notice that Kristin from The Biggest Loser went right home and put the blonde streaks back in her hair?  I mean, dude.  Professional stylists tried to help you by dying your hair back to solid and you go and re-frost within 24-hours?  For shame.