LA (WEHO): BEST NEW TWIST ON CHOCOLATE CAKE
By Nora Zelevansky / April 2nd, 2009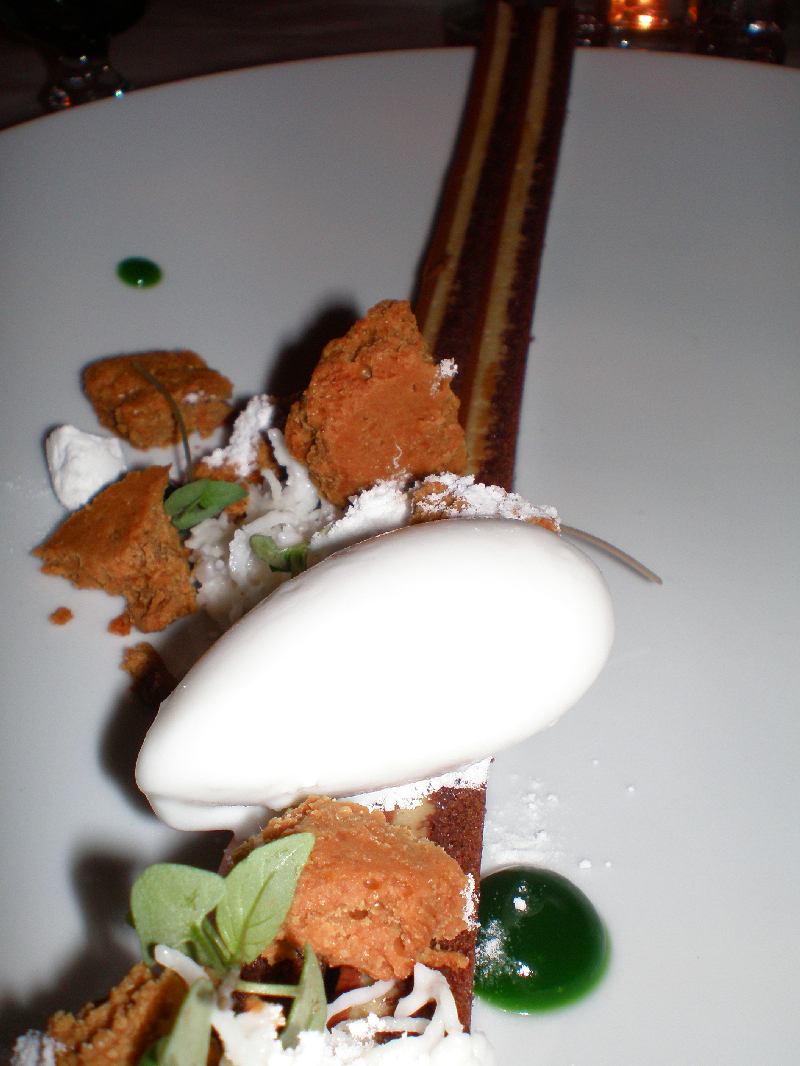 If you visited Michael Mina's XIV on Sunset upon opening
, you know (as I did) that the Philippe Starck decor is royal court eclectic (a bit like a spruced up version of Miss Havisham's living room).  You know that the food is aspirational and unique; even the classics have a twist. And you probably experienced their unusual "Tasting Menu"-style dining experience, where you opt for a certain amount of courses, which are then split between you and your fellow diners and plated separately on small dishes.
Now, while the tasting option remains intact, diners can also order big (or normal) person-sized portions on regular sized plates a la carte.  Still, very little about this scenester spot's experience is par for the course (just look at the Dark Chocolate Cake with Coffee Cream, Coconut Sorbet and Crunchy Peanut above).
I won't bore you with more background, as
XIV
has been open for awhile, but my father (fellow food obsessive) and I headed over for dinner on Tuesday night and found the restaurant quite crowded, despite the state of things globally.  Apparently, the world economy doesn't affect peoples' cravings for Paprika Fries.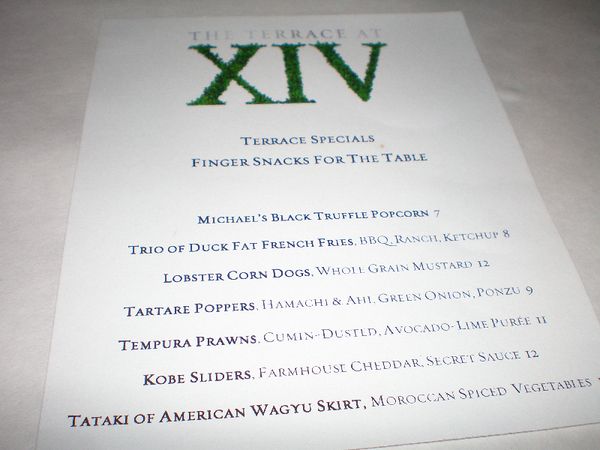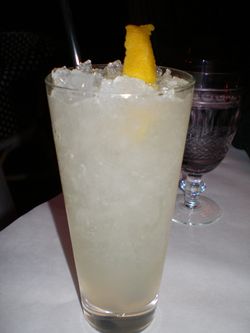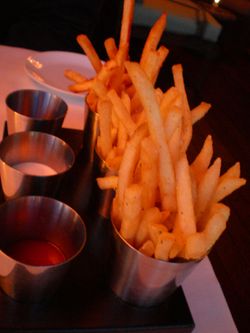 (CLICK TO ENLARGE: New Terrace Menu, Yuzu "Rickey," Trio of Duck Fat French Fries)
We sat on the more recently unveiled Terrace, which was quite nice and sort of minimal by comparison to the interior's decor.  Turns out, the Terrace offers a special sort of bar snacks menu (which is great if you want to sample the food and cocktails, but not spend a lot), including some tasty Tartare Poppers on crispy rice and a Trio of Duck Fat Fries with the most delicious Paprika version.  I also ordered the above Yuzu "Rickey," which really tasted like Yuzu and was light and not too sweet.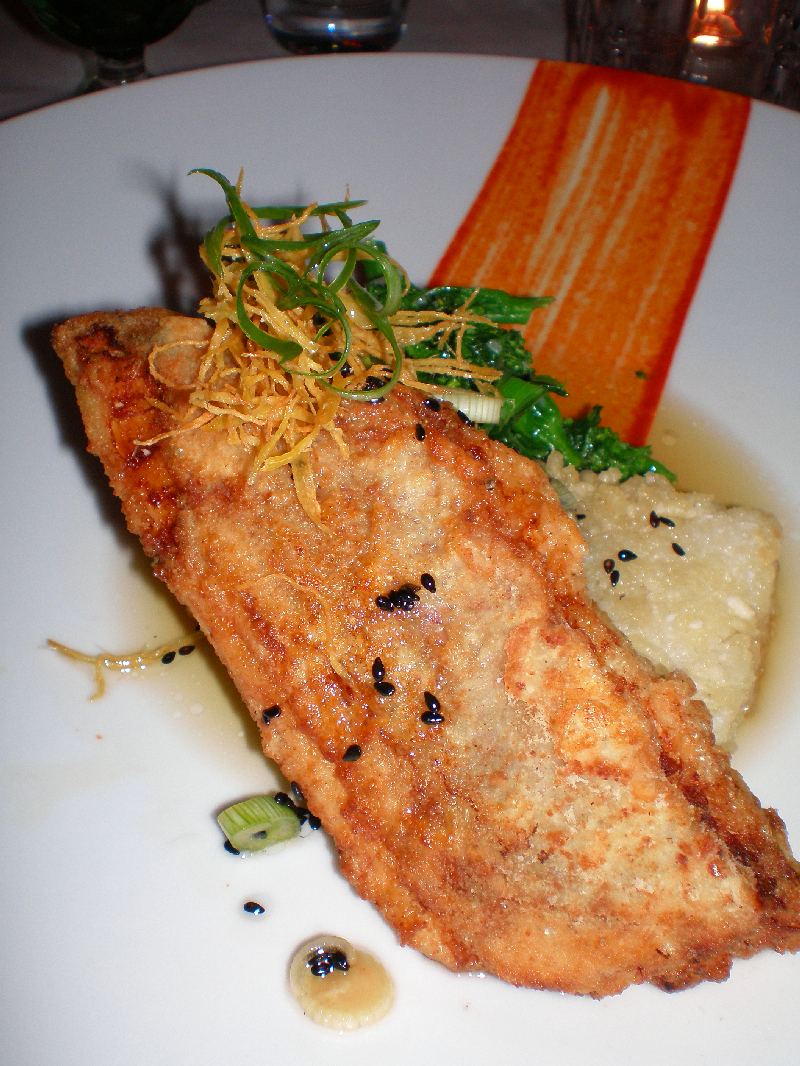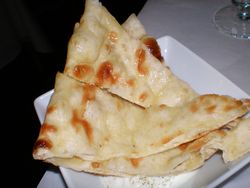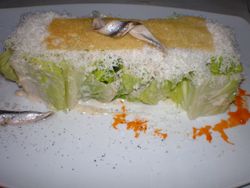 (CLICK TO ENLARGE: Tai Snapper, Brushed Bread and Caesar Salad)
We ate a ton, so I'll only choose our favorite things to highlight: the bread served with a feta cheese dip/spread situation, pickled veggies alongside the Wagyu Beef, Berkshire Pork Loin (Crispy Pork Belly, Pea Leaves, Salted Cashew) and, my personal winner and probably the least rich dish of the bunch, Tai Snapper (Tapioca-Crusted, Broccoli Rabe, White Soy Vinaigrette).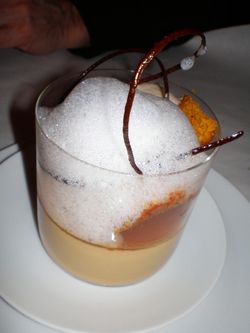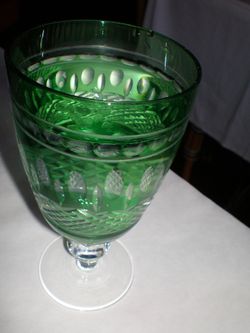 (Macallan Butterscotch and Just The Water Glasses I Love)
And, contrary to how the
Top Chef
contestants always make it seem, dessert was one of the major highlights of the meal.  The Dark Chocolate Cake (way above) was one of the best desserts I've had in ages with Crunchy Peanut pieces almost like chewy meringues and spots of sticky coconut.  The Macallan Butterscotch was also a hit with Winter Squash Cake, Toasted Milk Ice Cream and Malt.
Just another day at the office.  If your Louis
XIV
, that is.
xo – N.
P.S. Here's a picture of the original tasting service below.