NYC (SOHO): CRUMPLED TWENTY
By Nora Zelevansky / April 14th, 2009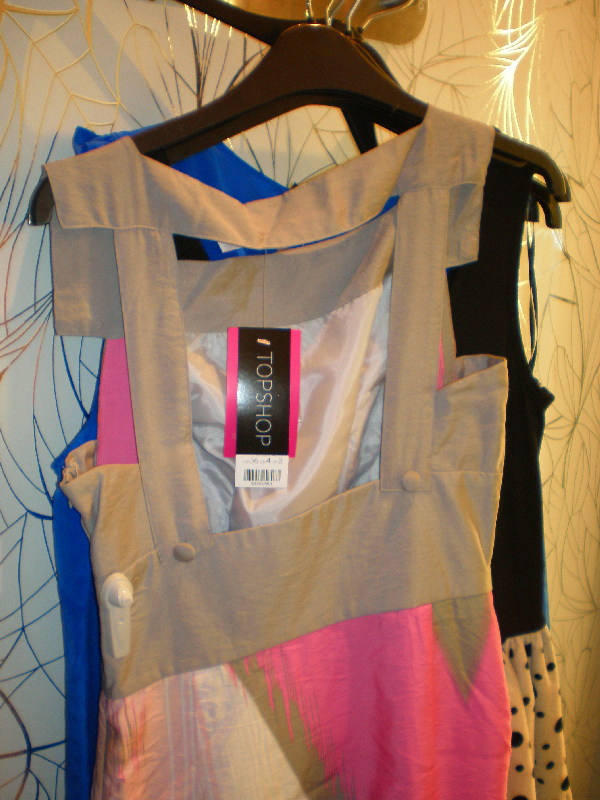 The Best Link Today:
I know lots of people have already covered the new (first US) store from British disposable clothing co, Top Shop.  So, I thought I'd give my two cents in a few less common formats:
Ode To Top Shop
By THE POCKET LINT
Roses are red
Violets are blue
Your dresses remind me of Betsey Johnson
Circa 1992***

***Betsey Johnson Bat Mitzvah season was actually more like 1990, but that didn't rhyme.
I don't think that poem worked so well.  Let's try something else:
AN OPEN LETTER TO TOP SHOP
Dear T.P.,
I love you like the moon (well, maybe as much as moon pies, which I've never had, but I imagine are quite good).  You rise like the sun.  And thank you for my floral dresses, although I wish you would have had my size in that black jumpsuit (which would have looked so cute with my black and wooden Marc Jacobs platforms).  Also, I think you should open in LA faster than H & M did.  And I appreciate that you don't limit the number of items per room, so hovering vulture girls don't steal the stuff I haven't yet tried on off the rack at the front of the dressing room.
Step off, creeps.
Still, your prices confuse me cause they're really way more Urban Outfitters or even Anthropology than they are Forever 21.  I think $200 is too much for a Top Shop dress, even if Kate Moss
did glance at it approvingly or snort a line near it or whatever.  But that's just my opinion.
Love ya.  Mean it.  Your brilliant, love!
Eh.  Not so good either.  Okay, last attempt to sum up my Top Shop experience in a fresh, new way:
HAIKU FOR TOP SHOP
By THE POCKET LINT
Where is my jumpsuit?
My size was missing, vulture creeps
But floral frocks cheer
Now that worked nicely.  Thank you very much.  Thank you very much.
xo – N.
P.S.  Look how much stuff I grabbed and horded in the dressing room!  LOVE.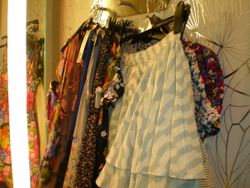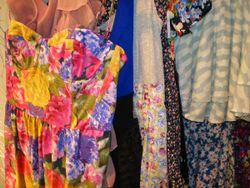 (CLICK IMAGE TO EXPAND!)