NYC (UPPER WEST): BEST MOZZARELLA EN CAROZZA
By Nora Zelevansky / April 27th, 2009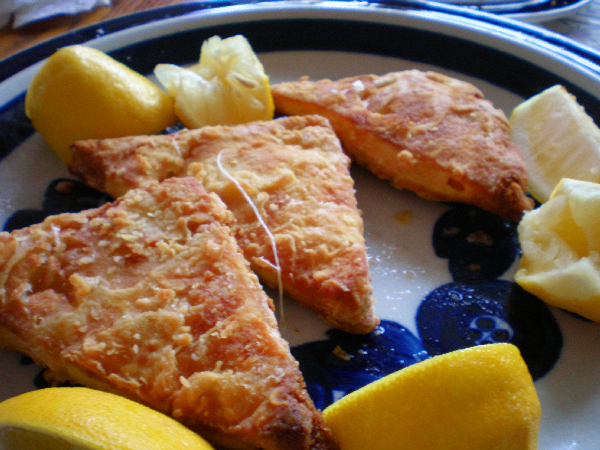 Not to make an enormous generalization, BUT, in my quite extensive experience, NYC Jews have their own Christmas Day tradition: movies followed by Chinese food.  And, contrary to what some deluded cold weather dwellers might believe, we LA Jews are not throwing on yamakas and bikinis and frolicking at the beach; we're all watching Holocaust movies at The Arclight and eating noodles at Mandarette.
Actually, we also sometimes see happy movies . . . like Life Is Beautiful.  Not to be confused with It's A Wonderful Life.  Different.
Anyway, growing up, I had the most wonderful luck of spending my Christmas Eve doing something a little more unique.  One of my closest high school friends (V. knows who she is) is half-Sicilian and half-Jewish.  (I always marveled at her Italian and Jewish relatives, who seemed like the same people with slightly different accents).  Her parents' apartment was a warm and welcoming place with constant activity and crazy laughter and yelling and all that good stuff that Jews and Italians do best.  And her building was like a community, as close friends and family members seemed to live all over it and would pop by at random times, sitcom-style.
But Christmas Eve was the bestest of the best nights at their place, as her 80/90-something (depending on the year) Great Aunt, who made me look low energy at 16-years-old, would prepare the most fabulous feast you have EVER encountered: homemade pizzas, fried artichokes, antipasti like you wouldn't believe.  More peripheral friends and siblings would angle for invites, having heard tales of the most fabulous, cozy, homey Christmas Eve celebration ever.  And, at the end of the night, generally our crew remained, still drinking the yummiest eggnog and watching (or half-watching, as V.'s dad begged us to shut the hell up) A Christmas Carol.
I guess I never paid attention because I still don't know the plot.  Eh, I remember what's important: the food.
ANYWAY, it is not Christmas (duh).  And V.'s Great Aunt has sadly passed.  But this last NYC trip, I did venture over to V.'s parent's place for dinner one night and had the amazing pleasure of chowing down on V.'s father's AMAZING Mozzarella en Carozza (see above).
First of all, he made me special buffalo mozzarella ones cause of my lactardation (SO thoughtful!) and seriously, especially with the lemon, these were out of this WORLD.  SERIOUSLY.  I mean, you can tell from the pic, right???
Now, I wouldn't even dare ask for the recipe, as I doubt it could ever be duplicated as well.  Plus I'm hoping it's a family secret.  I like to believe people still keep things like that (as opposed to in my house, where the only thing kept secret is how much we spend weekly on takeout sushi).  But there are other mozzarella carozza recipes around . . .
Of course, I can't promise they'll be as good.  In fact, they probably won't, since the above taste not only of authenticity and deep-rooted history and, well, mozzarella, but also of my own teenage nights spent smoking cigarettes with a latest crush on the family's breezeway, sipping eggnog with the girls or, ahem, ignoring A Christmas Carol.
But, if you can come close to sharing this experience in any respect, it is most definitely worth a try.  And the perfect note on which to close my posts on this most recent NYC adventure.
xo – N.