LA (CULVER CITY): THE BEST BLOODY MARY BAR & (YUM!) TATER TOTS
By Nora Zelevansky / May 7th, 2009
Bloody.  Mary.  Bar.
'Nough said.
I heard rumors of the mythical D.I.Y. (that's "Do It Yourself") phenomenon at Rush Street's new "Red-Eye Brunch" (yup, for all you hungover slackers, who, unlike Grandma Pocket Lint, actually go to parties).  Hangover or not, I love a bloody mary and I live for a buffet (yup, grandma again), so I had to check out the Sunday scene for myself.
Sure enough, one corner of the bar was cluttered with a heavenly slew of bloody mary fixings.  They brought me a salt-rimmed glass and away I went to prepare my very own perfect afternoon cocktail.  Faced with the "3 Olive Hail Mary Bar" selection of tomato juice, Clamato, four types of hot sauce and worcestershire (do I get points for spelling that correctly?), spices from Lawry's to celery Salt to Old Bay, horseradish, celery, blue cheese, jalapeno or almond stuffed olives and even marinated asparagus, I was paralized with excitement.  Ultimately, since I live for hot sauce and anything salty, I decided to just use it all.
And I'd do it again.  You know why?  Cause even Andre the Critic said it was a damn good bloody mary.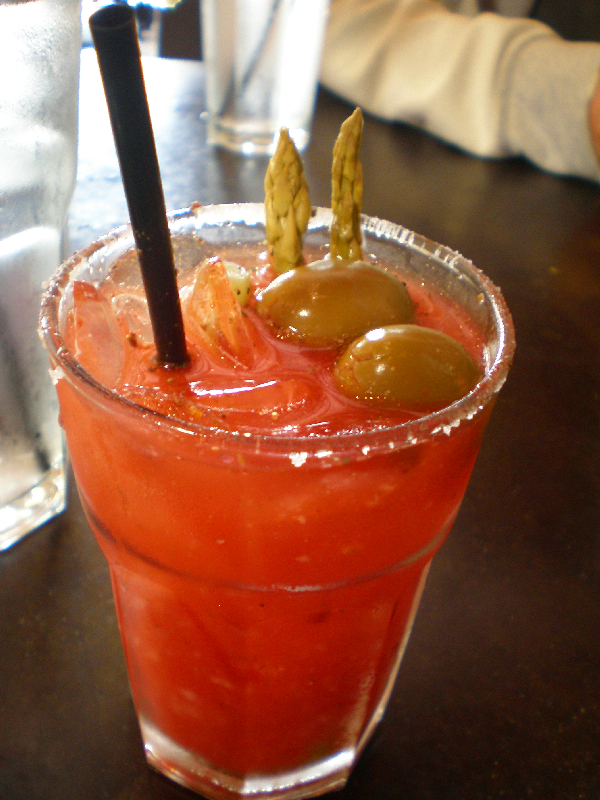 (MY BLOODY MARY & ANDRE'S ARM)
Anyway, just when I thought brunch couldn't get any better (okay, I admit that I'm not a huge breakfast person, so I didn't have high expections–I'd usually just order lunch), they brought over some breakfast paninis with, yup, tater tots.  Now, for those of you who haven't had a tater tot since camp or something, RUN don't walk to Rush Street now.  In fact, even if you've had a tater tot recently, run to Rush Street because they have the best tater tots I've ever had in my life, I think. (Plus, running might actually work off some of those tater tots.)  The Rush Street tater tots have some sort of tangy flavoring on them that is just out of this world.  It's probably just a boat load of sodium and MSG or something, but BRING IT ON.  Anytime, baby, anytime.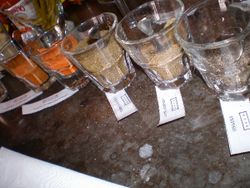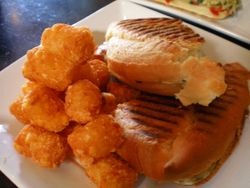 (CLICK IMAGES TO EXPAND: Bloody Mary Seasoning and Heavenly Tater Tots)
For our main dishes, Andre and I ordered lunch cause, well, I'm not a breakfast person.  So, he had this awesome Sloppy Joe (below) and I had a Cobb Salad (below).  The salad, though perfectly good, was a lame choice made from a place of fat ass fear and guilt and it didn't really get eaten cause I was too busy chowing down on tater tots.  Yum.
And now a word from our sponsor. [READ: Insert clever sign off cause I'm tiiired].
xo – N.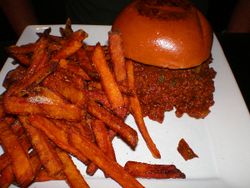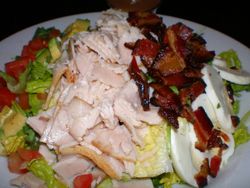 (CLICK IMAGES TO EXPAND: Awesome Sloppy Joe and Cobb Salad)