LA/NYC (ROBERTSON): THE BEST GRATIS HAZELNUT SPREAD (OH, AND EGG SALAD)
By Nora Zelevansky / May 5th, 2009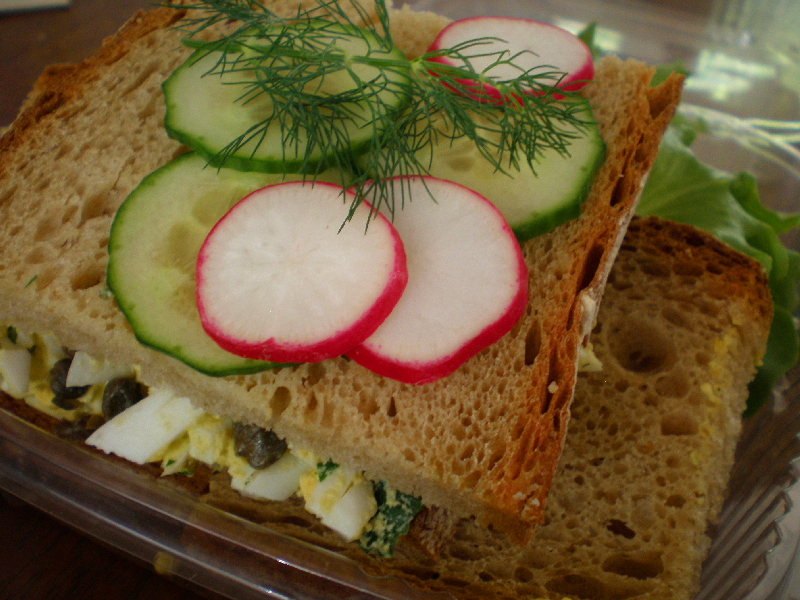 While in NYC, I went on a Pain Quotidien walking tour.  Not intentionally, of course.  I hate tours.  And tour guides.  Seriously. But for whatever reason an inordinate number of friends/editors wanted to meet at their neighborhood branches.  Having a penchant for their macaroons (chocolate and plain) and egg salad, tuna and buffalo mozzarella tartines, I was more than happy to oblige.
But it wasn't until after all those meetings were over that I learned the most important piece of Pain Quotidien information: If you're anything like me, you've ever noticed nearby tables enjoying an assortment of nutella-like rich, sweet spreads and thought, "I would LOVE to eat that, but can't validate ordering it." Wel, I'm here to tell you that it's actually complimentary.  At any point, you can ask your server for the assortment of spreads and they will magically (well, not magically per se, but amazingly) appear at your table.  So, basically, you have to eat the spreads.  It's not your fault.  It's simply part of the experience–like condiments.  Clearly, the calories don't count.  I mean, do you count your calories from mustard?
Anyway, today I was feeling nostalgic for my NYC trip.  Actually, I was feeling grumpy about still being sick (JEEZ!!!) on my way back from the doctor and so, spotting the Robertson Pain Quotidien annex, I decided to treat myself with an egg salad tartine to go.  Usually, the servings are quite small, so I felt a little guilty about splurging (being a bit broke ass at the moment–not glamorous, but true).  But to my surprise, not only did the take-out sandwich cost less than the menu listed, but it was huge.  Literally, I got three substantial sized sandwiches in one order.
CRAZY.
Now I'm up to my ears in egg salad and capers.  Just another day in the hood.
xo – N.
P.S. I know not the exciting Cinco de Mayo post you may have imagined.  But I'm still sicko.  No margaritas por moi.  How lame is that?