LA/SF (THIRD STREET/ST. HELENA): THE BEST TEMPURA WITH GREEN TEA AND CURRY SALTS
By Nora Zelevansky / May 8th, 2009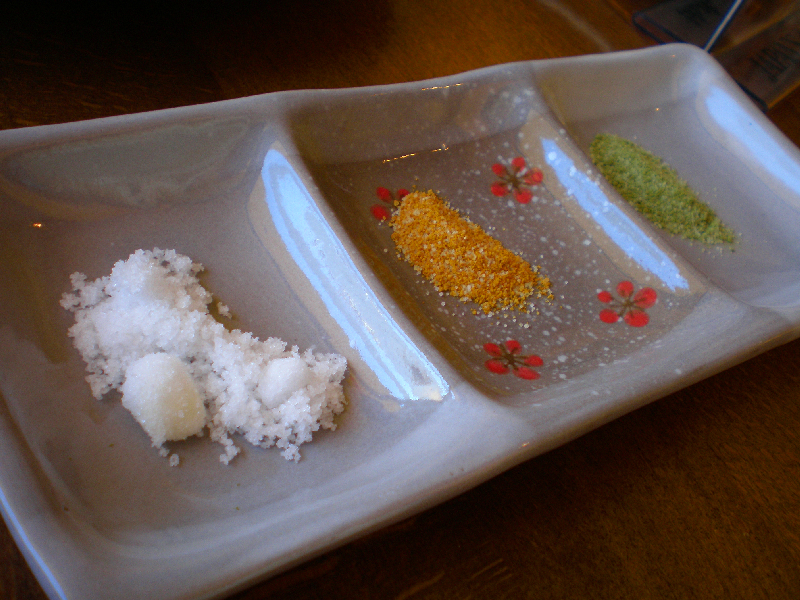 (MISHIMA'S FLAVORED SALTS)
On the Calistoga Ranch leg of our honeymoon, Andre and I got an itch for sushi.  That sounds sort of gross.  Whatever.  Anyway, that sushi yen comes a callin' quite frequently in our shared world.  So, after a day of wine and (yum!) port tasting at this great, quirky St. Helena vineyard Prager Winery & Port Works, we headed out to Go Fish.  Owner Cindy Pawlcyn, who is sort of a local legend, owns several fab restaurants in the general vicinity, although the other two (Mustards Grill & Cindy's Backstreet Kitchen) are not at all Japanese.
Go Fish turned out to be great, a contemporary and lively comparison to some of the stodgier options around Napa Valley etc.  And lighter fare, of course, than some of the others too.  But the dish that stood out most for me was a simple mixed Japanese Vegetable Tempura with green tea salt on the side.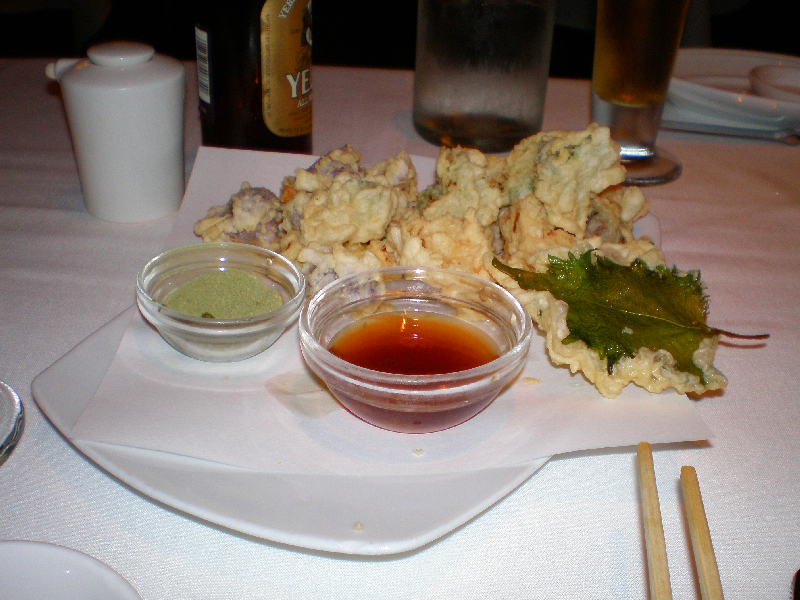 (GO FISH TEMPURA WITH GREEN TEA SALT)
Now, I'm a salt addict, of course.  And flavored salt–foggetaboutit.  You dip the fresh fried veggies in sauce and then dab them with salt (which sticks because of the moisture) and basically you've found God.  Or, okay, a higher power.  The power of Grayskull.
I'm such a girlie girl that I just double-checked that He-Man reference (luckily) and wouldn't you know that I've always thought it was called "Graceskull"?  Will & Graceskull.  Okay, I am WAY off topic.
Anyway, once we headed south, I thought it would be a long time until I tasted that green tea salt again.  Until . . .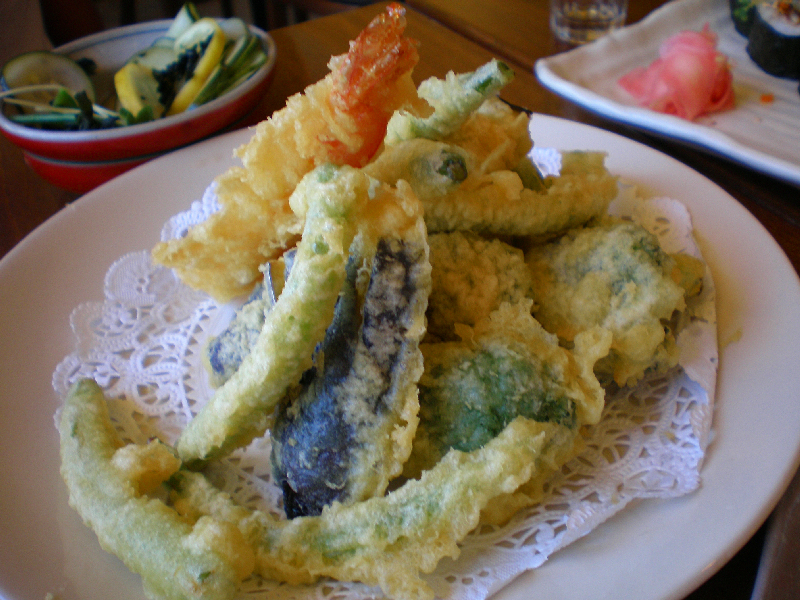 (MISHIMA'S A LA CARTE TEMPURA)
Last night, Andre the Grumpy (cause he was hungry) and I headed around the corner to Mishima for an early dinner.  Turns out that they're now offering a sort of Happy Hour a la carte Tempura menu, so we ordered some stuff (eggplant, shrimp, broccoli).  And, lo and behold, the dish showed up with the usual tasty Tempura Sauce, but also with a tray of salts: a regular rock salt, green tea salt and (the best ever!) curry salt.  It was totally delish.
So, green tea salt was just around the corner the whole time.  I guess there's no place like home.  Now where did I put those ruby slippers?
xo – N.