SCOTLAND (EDINBURGH): THE BEST FIRST FEW HOURS
By Nora Zelevansky / May 12th, 2009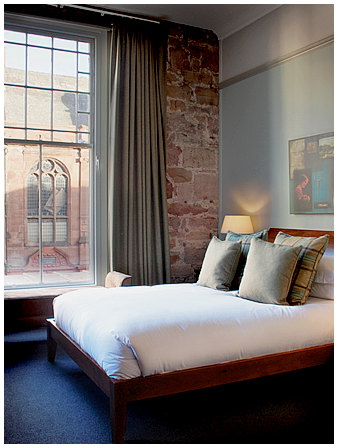 Headache?  What headache? 
Jet lag?  What jet lag?  Break from posting?  What break from posting?
I am only hours in and am already deeply enamored with Edinburgh, which feels like a cross between a Medieval Village and Portland.  I LOVE IT HERE.  And I love my hotel, Hotel du Vin, which supposedly used to be a "lunatic asylum." See, the Scotts even say loony bin better!  It certainly doesn't feel like a former institution.  I'd pretend to be insane to stay in a place like this.  It smells like cedar, contemprary design combined with antiques and, of course, a bit of plaid.
Wish you were here!
xo – N.