LA (WEHO): BEST ORGANIZATIONAL MAKEOVER
By Nora Zelevansky / June 12th, 2009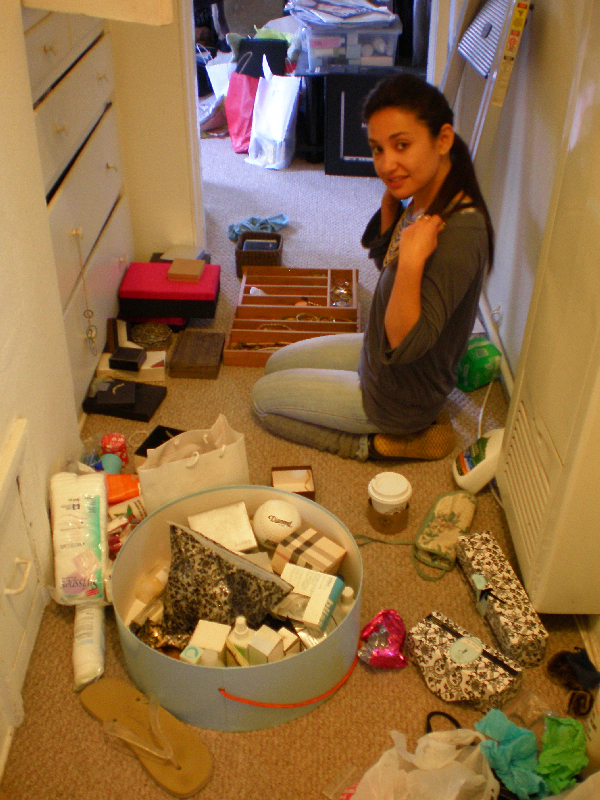 Sometimes when my friend Tova comes over to my house, a glazed expression appears on her face.  But it's not lame conversation that makes her zone out (not in my house, boy) or even Mina and Waldo allergies.  Tova is just an organizing machine and I . . . well, I am organizationally challenged.  (Yeah, we prefer that label to "slob" these days).  See, most people think O.C.D. stands for Obsessive Compulsive Disorder, but it's also the acronym for Organizationally Challenged Disease.  A very real syndrome.  Sort of.
Actually, although Tova can miraculously organize anything on any budget (seemingly without judgment), the acronym O.C.D. is also the name of Tova's signature service: Organizational Closet Design.  She will literally come into your home, go through your closet, make you try everything on, help you pick and choose what to keep and what to give away, organize your remaining wardrobe into a simple system that you can actually maintain, and then take you shopping to fill your actual wardrobe holes.
But–enough talk–lemme just show you: So, there's a place in my apartment that I have long referred to as "My Favorite Place in the House."  As in, "Nora, where is the gift certificate, costume jewelry, perfume?"  "Oh, it's in My Favorite Place In The House."  It's just a little cubby, but I love it cause it's sacred and all mine.
Sadly, in recent (gulp) months, I let it get messy, partially because I didn't have a decent system for a few of my favorite things: beauty products, plastic giraffe earrings, embellished Ziplocs.  You know, not valuables or nicer things you might hide away, but STUFF that I just happen to love.  I don't have a natural instinct for creating what might seem like obvious systems.  Luckily, Tova arrived on the scene to help me organize not only My Favorite Place in the House, but also my linen closet.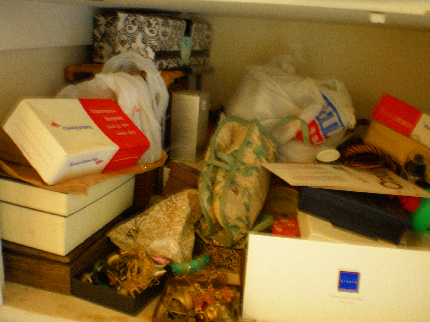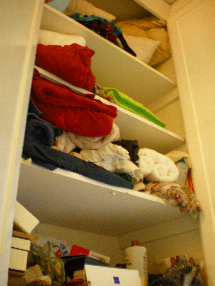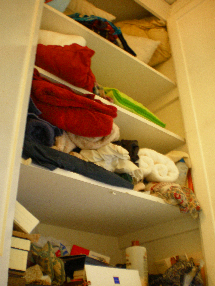 [BEFORE PICTURES: FOR SHAAAAAME . . . I CAN'T BELIEVE I'M OUTING MYSELF]
These pictures don't really do the mess justice, but, suffice it to say, that there was no system at all.  And whenever I needed a washcloth or something, I had to search through the wreckage, hoping to find survivors.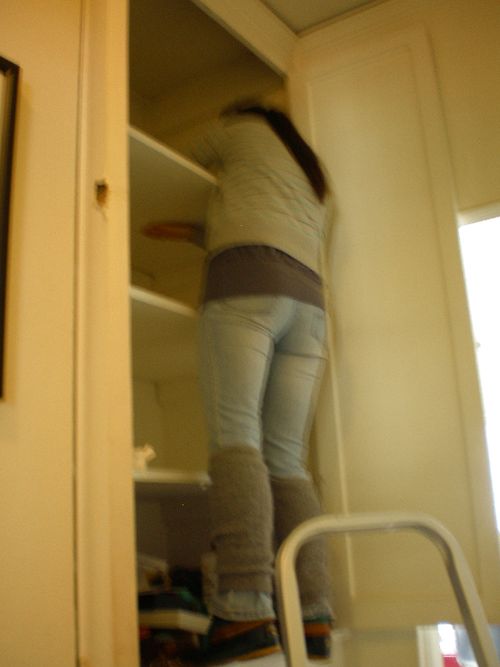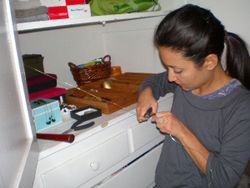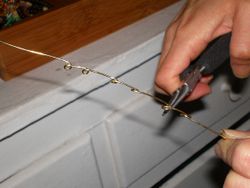 [CLICK TO EXPAND IMAGES: TOVA IN AN ORGANIZING WHIRL]
Tova patiently helped me go through my stuff ("But I NEED that single faded and stained pink hand towel!")  We had to be sensitive cause The Drewser HATES to throw things away.  I always joke that he eulogizes pillows, but he really does!  Actually, we both endow inanimate objects with feelings, which I guess is why we get along and also why we are, well, very strange.  ANYWAY . . .
Tova also created hanging space, where it didn't exist, like a wire from which to hang my earrings, so I can always find them.  Even the single dangly from seventh grade that lost its partner long ago.  Just kidding.  She made me throw that one out.  Poo.
AND VOILA!!!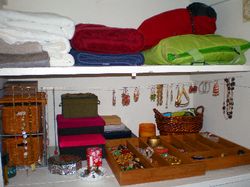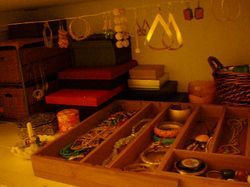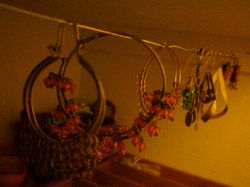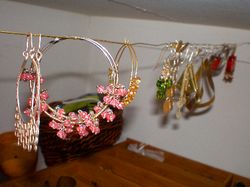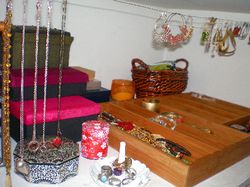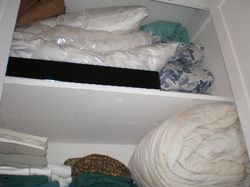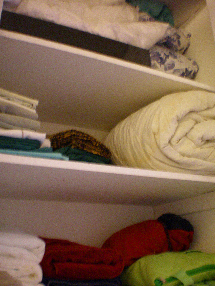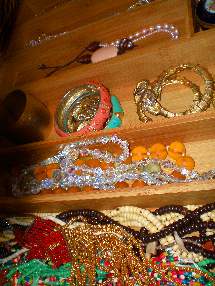 [CLICK TO EXPAND IMAGES: ALL KIND OF ORGANIZED HAPPINESS]
Now, here's the craziest thing about this whole amazing experience: 1. I literally didn't end up having to buy ANYTHING.  We used a utensil holder I happened to have in the house.  I mean, I know she loves to be able to help purchase all the perfect, beautiful containers etc., but she really helped me make do with what I have.
2.  We did this MONTHS ago now.  And I waited to POCKET LINT the whole shabang, so I could see how long my disorganized ass could keep this shit up.  LITERALLY, it still looks perfect today.  PERFECT.
Now I understand why people fly her to NYC or wherever to do her thang.  Next step: convincing her to redo my whole office.  Maybe when that glazed expression comes over her again.
xo – N.