LA (AND BEYOND): THE BEST SKINCARE COOKIES
By Nora Zelevansky / June 4th, 2009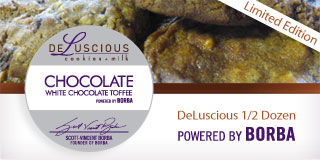 Yeah, you heard me right: skincare cookies.
Cause all that crap your mama fed you about chocolate and sweets causing breakouts was really just to keep you from destroying your gnarly teefs (that's teeth to you).  No, sweets and chocolate (well, the oils from it) really can cause blemishes, I think.  But Borba (our lovable, edible, skincare pals) has teamed up with LA's DeLuscious cookies (based on Highland) to create two brand new cookie flavors that will supposedly make you all glowy and stuff thanks to their signature antioxidants and nutrients and fatty acids and that jazz.  Hope you like Chocolate White Chocolate Toffee and Oatmeal Raisin (always my fave–old lady taste again).  Anything with toffee slays me too.
Of course, considering my theory about how everyone actually looks more glowy around the face when they're about 5lbs overweight, cookies of any kind might help.  Now if only they could develop a topical skincare cream that combats fatassness (after eating all these cookies).
One that actually works and doesn't include side effects like dry mouth and death.
xo – N.
P.S. I'm totally going to try these, so I'll keep you informed on my experience.  Love, Pudge.
P.P.S. Sorry I haven't done an eyelash update, BUT F.Y.I. my eyelashes totally did grow thanks to the Revitalash. Still, it turns out that there is some glaucoma fighting chemical in the mix that can change your eye color to brown.  It hadn't happened or anything, but I really don't want to wait around and see if I'm one of the unlucky ones.  Not that I don't love brown eyes, but I'm a green eyed girl 4 LIFE. 
REPRESENT.  And what?