LA (MIRACLE MILE): THE BEST ART SHOW
By Nora Zelevansky / June 25th, 2009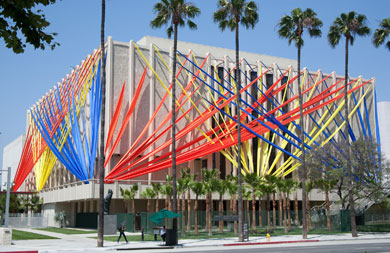 So, I'm slightly biased.
BUT I think you should all go out immediately and see "Your Bright Future" at LACMA.  The new show, featuring a slew of dynamic contemporary Korean artists, is opening this week.  As my madre, Lynn Zelevansky, curated the shabang, I had the pleasure of attending the opening last night, which was–well–as bright and energetic and lively as the name might suggest.
This is my mother's last major show as a LACMA curator and, while I won't miss the spotty Patina catering (sorry, but it's true), I know I'll miss the levity of the museum's outdoor cocktail parties and celebrations.
My sister and I grew up wandering first downtown galleries and later black tie gala openings in MOMA's sculpture garden.  When we arrived in LA, the first opening I attended at LACMA was a Diego Rivera retrospective (I believe) and I was immediately struck by the laidback, festive vibe of the affair.
And this show, in particular, has a great energy and sense of humor, befitting my mother's last LA hurrah–for now, that is.
Bitter sweet.
xo – N.