SONOMA (AND BEYOND): THE BEST GOAT MILK BAMBINIS
By Nora Zelevansky / June 17th, 2009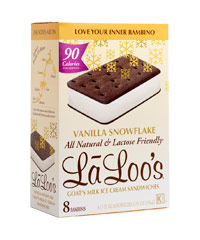 HEY! SHUT UP!! DON'T LIE TO ME!
YOU THINK I'M BLIND?  BUT I'VE GOT EYES TO SEE.  HEY, MR. . . . Okay, sorry, I got carried away.  But, seriously, this is EXTREMELY exciting for me.  I know I've mentioned LaLoo's Goat Milk Ice Cream before because I feel like it's practically a perfect food.
When I realized I was a lactard, I just assumed I was relegated to a life of sorbet and weird, chemically-flavored, pretend rice ice creams.  Then, I found LaLoo, which is great because it doesn't pretend to be anything it's not and it's not remotely hard on your stomach like soy can be.  It's not made of grains pretending to be dairy or whatever.  It's simply a different kind of dairy than the usual cow stuff.  And it's naturally just way less fattening.
Then, LaLoo introduced a mint chocolate chip and also a cappuccino version (coincidentally my two favorite ice cream flavors).  And now, as if things weren't wonderful enough in the goat milk product arena, LaLoo is introducing goat milk ice cream sandwiches called Bambinis.
And (drum roll please!) they're only 90 calories.  Incidentally, a Tofutti Cutie is 130.  And that's tofu.
Basically, I need to run to Whole Foods.  Cause this isn't just the best goat milk innovation since cappuccino ice cream.  This is the best thing since sliced bread.  And sushi.  Sushi is good too.
xo – N.