LA (HOLLYWOOD): THE BEST THAI BEEF SALAD AND NOODLES WITH SHRIMP BALLS
By Nora Zelevansky / July 2nd, 2009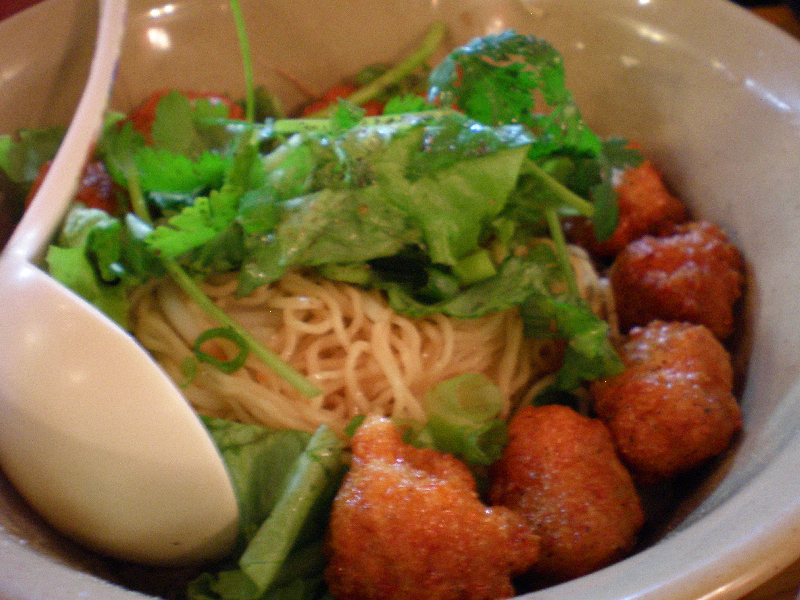 Like most Angelenos, I'm particular about my Thai.
For an authentic Prik King, I choose Hollywood strip mall housed, Jitlada.  For shmancier more refined Spicy Eggplant and Chicken and Vietnamese Rolls, I eat at Beverly Hills' Café Talesai (where my father is a regular).  For cheap eats late night post-Arclight, Andre and I head to Palm's Thai (the home of Thai Elvis impersonators), where the food is eh, but the ambience is . . . well, eh.
So, when my friend C.R. suggested a Thai hole-in-the-wall I'd never visited for "Goodbye Dinner, Round II," I sort of scoffed.  I admit it.  I can admit mistakes.  I'm a big person like that.  And I will be a big person in other ways, if I keep eating like this.  But I digress . . .
Anyway, who am I to nix the guest of honor's request?  So, we headed to family-owned Pailin for din-din.  And, can I tell you, it was TOTALLY and completely delicious. Though I don't associate sausages with Thai food, they actually make their own from scratch.  C.R. also made us try some kind of far out Steamed Curry Fish situation, which looked suspect (like an over-sized fish cupcake or something), but tasted pretty good with fragrant coconut.
But my two favorite dishes were the Noodles with Shrimp Balls (see above–amazing!) and the Thai Beef Salad, which had dressing that I'd like to drizzle on basically everything I ever eat again.  Also, the Fried Tofu appetizer was tasty and came with a tangy sweet and spicy sauce that seemed to rock M. and C.R.'s worlds.  Sorta like the Thai Beef Salad dressing did for me.  Yuuuum.
Anyway . . . enough chit chat.  Pics are worth a thousand words, right?  Maybe I should have been a photographer.  I don't think I like that expression all of a sudden.
Either way, these definitely speak for themselves.  Now maybe C.R. will have to come back for the shrimp balls, as well as Father's Office burgers?  He definitely has to read my blog everyday cause I keep sending him messages.  Are you out there, C.R.?  LOVE.
xo – N.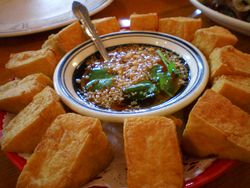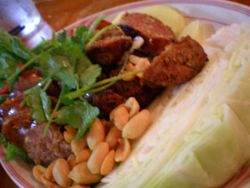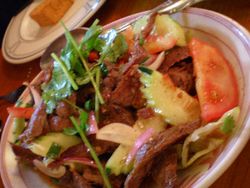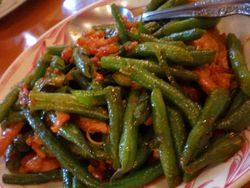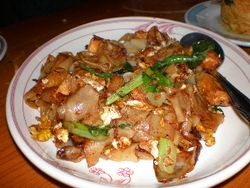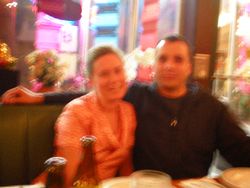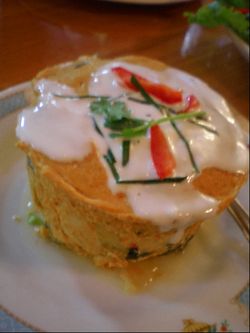 [CLICK IMAGES TO EXPAND: FRIED TOFU, HOMEMADE SAUSAGE, THAI BEEF SALAD, PRIK KING, PAD SEE YOU, SMILEY M & C.R., FISH CUPCAKE (HEE) AND R. CHATTING]