SONOMA: THE BEST SUMMER COCKTAIL RECIPES
By Nora Zelevansky / July 14th, 2009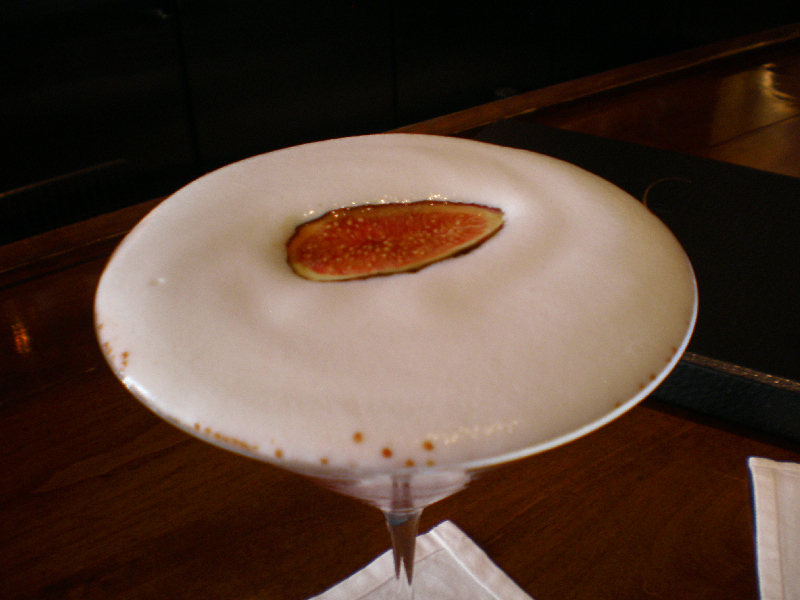 Truly, there are few summertime treats more delectable than 1) fresh watermelon juice and 2) steamed blue crabs atop newspapers with Old Bay seasoning.  The fruit juice takes me back to an idyllic moment poolside at Rio's Copacabana Palace (!) and the crab feast (with wooden hammers in tow) reminds me of beachy east coast summers and, more recently and specifically, of a sandwich I've referenced before, found en route from Delaware to Dulles.
Still, silly old me: I never thought I'd actually get to have the watermelon juice and Old Bay simultaneously, much less in the same cocktail.  But this past week, I headed with a pal to Healdsburg's two-Michelin starred resto Cyrus for some pre-din din cocktails.  Who knew we were in for such a sublime treat?
Though mixologist Scott Beattie has now left the premises to book tour or some such thing, the famed cocktails are still top tier.  And the new summer additions had just been added less than a week before, including the "Down By The Bay" with, yes, Old Bay seasoning and watermelon juice.  The cocktails were out of sight and we just had to sample all four, so without further ado: summer cocktails . . .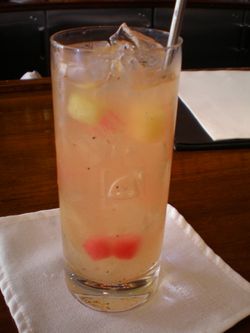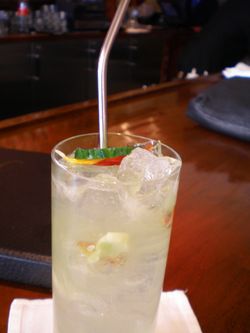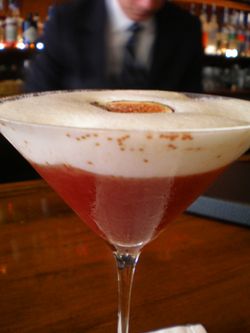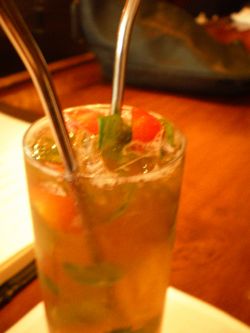 [CLICK IMAGES TO EXPAND: (From left) Down By The Bay, Summer Thyme, Figaro & Upstairs Neighbor]
Interestingly, the Upstairs Neighbor (which tastes like a savory tomato basil salad dream) is named for the person who force fed Scott Beattie tomatoes as a child and ultimately is to blame for his hatred of the veggie.  (I know, I know, all you know-it-alls out there: it's a fruit).
Summer Thyme:
Cucumber Slices
Sunflower Petals
3/4 Oz. Thyme Lemoncello (made on the premises)
3/4 Oz. Plymouth Gin
3/4 Oz. Lemon Juice
1/2 Oz. Thyme Simple Syrup
3/4 Oz. Seltzer
Shaken on the Rocks
Of course, they did something incredible to the cucumbers that made them more than just your average vegetable . . .
Figaro:
Dash Balsamic
1 1/2 Oz. Pampero Rum
3/4 Oz. Lime Juice
1/2 Oz. Orgeat
1/2 Oz. Contreau
1/2 Oz. Fig Puree
Shaken Up
Cardomom Foam
Bruléed Fig Slice
Down By The Bay:
Salt and Old Bay
Cilantro
3/4 Oz. Smirnoff
3/4 Oz. Buddhas Hand Citron Vodka
1/2 Oz. Lime Juice
1 1/2 Oz. Watermelon Juice
1/4 Oz. Simple Syrup
Shaken on the Rocks
Upstairs Neighbor:
Salt
Balsamic Vinegar
Basil Chiffonade
Halved Cherry Tomatoes
1 1/2 Oz. Hanger Clear Vodka
1 1/2 Oz. Tomato Water
1/2 Oz. Lemon Juice
1/4 Oz. Simple Syrup
1 Squirt Chipotle Vodka
Shaken on Rocks
Red Salt Rim
I would definitely say that the Figaro's fresh fig and coconut cream
top was amazing, but the cocktail itself was my least fave out of the four.  Otherwise, I really can't say.  They were all delish.
In fact, sitting on my couch sans air conditioning right now, I'd pretty much take all four.  At once.  Yeah, I said it.
xo – N.