SONOMA: THE BEST FENNEL-INFUSED SALUMI WITH PICKLED GRAPES
By Nora Zelevansky / July 20th, 2009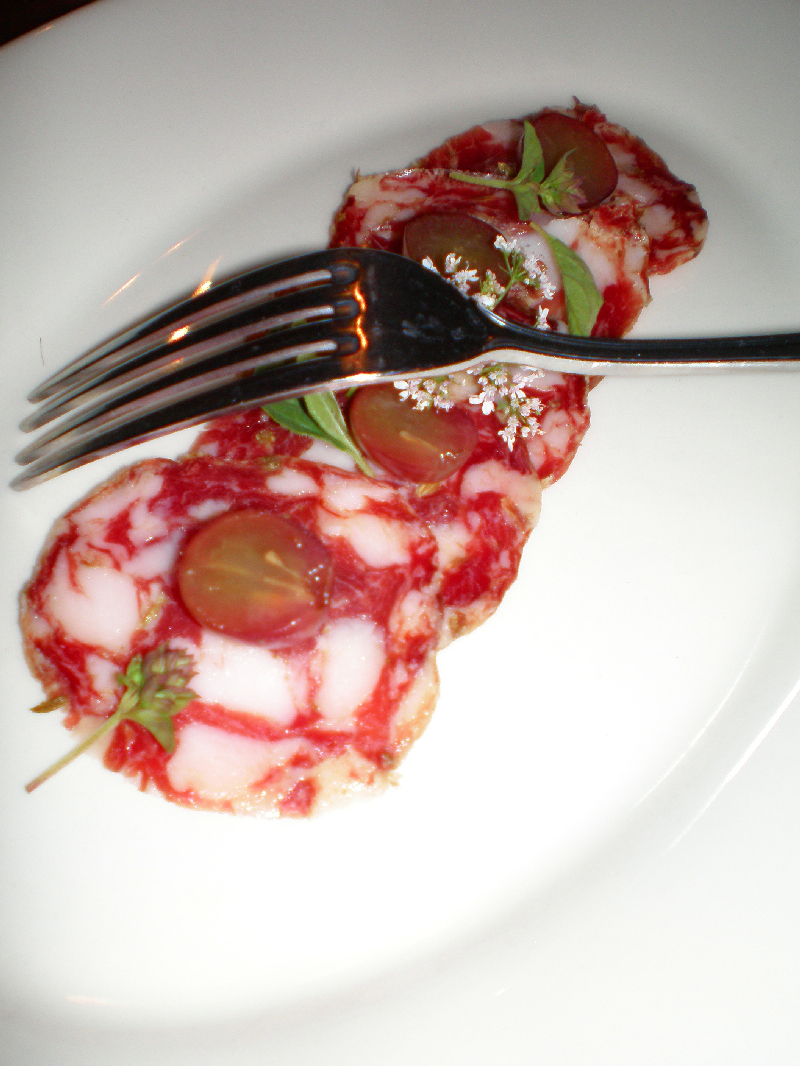 Did everyone have a good weekend?
I know I did.  So, why am I so damn grumpy now?  Maybe it's because of the ridiculously oppressive temperature in my un-air conditioned apartment or the fact that the freestanding air conditioner that Andre and I just purchased turned out to be, well, not freestanding.  DAMMMMMIT!
When I was a kid and it was crazy hot, my father used to fill the bottom of the bathtub with cold water and tell my sister and me to roll up our pants, sit on the edge with our feet immersed and pretend we were fishing in a river.  But, since the TV doesn't reach into the bathroom and it's too hot to focus on reading Mansfield Park (my current book) and I don't even like handling imaginary bait, I guess I'm stuck lying on the couch with a fan pointed directly at my scowling face.  Grrrrrrrrrr.
Might as well meditate on happier, less sweltering days, like way way back in, well, last week, when I was up in Northern Cali:  Since my trip to Sonoma was all about researching Biodynamic wineries (which basically means uber-organic Rudolph Steiner-style), it seemed only fitting that we eat at primarily farm-to-table spots that grow their own produce and smoke their own meat and that whole shabang.
Soooo, we found ourselves at Zazu, a spot that, yes, has it's own garden and, yes, cures it's own meat and, yes, was recommended by every single Biodynamic wine-related person we met.  Actually, Quivira Vineyard grows some produce for the restaurant in their new Biodynamic garden.
Anyhoo, the food was totally delish, as promised, and above is a pic of my fave of the dishes from an extensive charcuterie menu: fennel-infused salumi with pickled grapes.  I mean, SHUT UP.  I would eat pickled grapes alone and freak out, but with house-cured salumi???  C'mon now.
I would also eat frozen grapes.  But maybe that's because it's SO DAMN HOT!!!!!  It's too damn hot.  It's too damn hot.  What is that from?  Eh, who gives a crap?  I wish I was in an air conditioned movie theater right now.  Any movie would do.  Well, not ANY movie.  Any movie that's a romantic comedy and doesn't require me to use my brain.  Maybe 500 Days of BLISTERING HOT SUMMER. I'm losing it.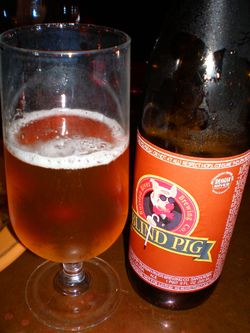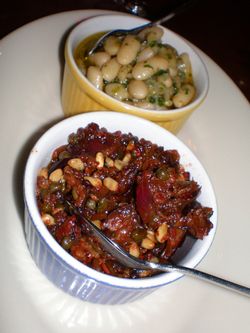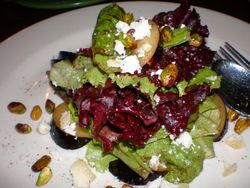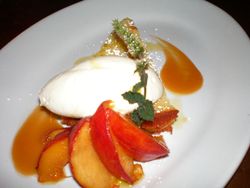 [CLICK IMAGES TO EXPAND: Local Brew, Eggplant and White Bean Sides, Salad With Delicious Everything and Peaches and Mascarpone atop Olive Oil Cake]
I think the images speak for themselves.  Plus, I'm too depleted from this stupid heat to bother describing anything.  It was good.  Now it's hot.  The End.
xo – N.