LA (WEHO): THE BEST NEW BURGER & "ADULT" SHAKE MENU
By Nora Zelevansky / August 7th, 2009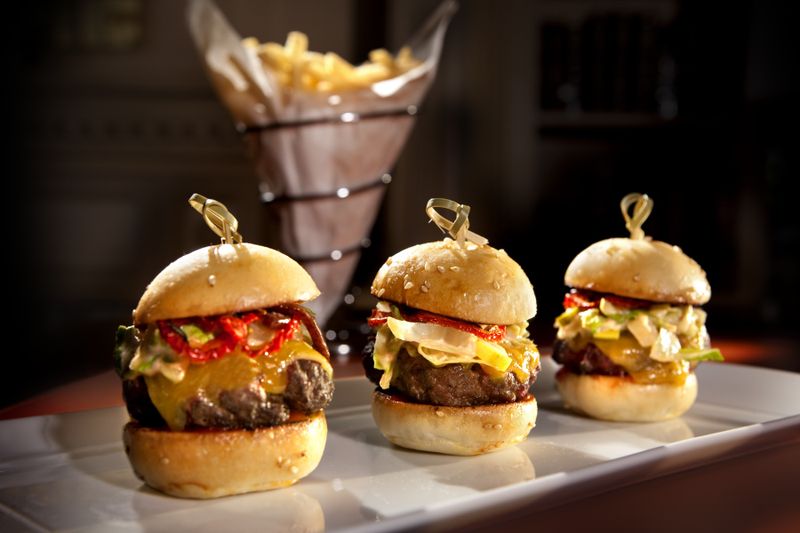 The term "business dinner" evokes, for me, images of white-haired men in navy blue suits huddled around a circular table, dropping the occasional blonde joke between glasses of brandy.
But my job involves a different kind of gathering: a constant slew of elaborate tasting events and intense multi-course meals at swanky restaurants.  At many of my "business dinners," food (or drink) is the main event as opposed to the deal making buffer.
I'm not complaining, of course, because, well, I'm obsessed with food to the point of lunacy, the chow is often above average AND I love to try new spots.  Also, I hate blonde jokes, so the alternative doesn't quite work.  BUT I have to admit that I'm never happier than when dinner is something mellow or specifically ethnic or sushi-ISH instead of, well, fois gras and red wine reduction related.
SO, you can imagine my excitement at sampling XIV's new burger menu.  I tried a few of the Terrace Menu treats on my last visit to XIV (including the paprika fries, which are just INSANELY good).  This time, though, I had the pleasure of sampling some of the new burger menu options.  I inhaled the large slider-size salmon, turkey and (my personal fave) lamb burgers, all of which were pretty damn awesome.  I'm not usually a fan of the slightly buttery brioche-style bun (to be honest), but in this case it just worked.
In fact, I'm thinking about that lamb burger now.  I WANT IT!  NOWWWWW! Anyway, I didn't try the "shakes" cause of my lactardness, but reports were good from the other food writers.
So, here's the actual menu, if you don't mind getting very hungry just thinking about it:
Kobe Burger, Balsamic Onions, Farmhouse Cheddar, "Secret Sauce"
The Lamburger, Yogurt Raita, Feta, Tomato, Arugula
Salmon Steak Burger, "Banh Mi" Style, Cilantro, Carrots, Jalapeños
Heritage Turkey, Jack Cheese, Harissa Aïoli, Roasted Peppers
Vegetarian Falafel Burger, Michael's Mother's Recipe, Tahini Sauce
 
Root Beer, Jack Daniel's, Bitters, Sassafras Ice Cream, IBC Root Beer
Piña Colada, Montecristo White, Coconut Ice Cream, Jarritos Pineapple
Orange Creamsicle, TRU Vanilla, Vanilla Sorbet, Boylan's Orange
Now, since I lied about hating blonde jokes for the sake of being cheeky, have you heard the one about the frog and the blonde?  How bout the blonde and the moose tracks?
xo – N.