LA ( WESTWOOD): THE BEST NEW BLVD 16 SUMMER (TASTING!) MENU
By Nora Zelevansky / August 5th, 2009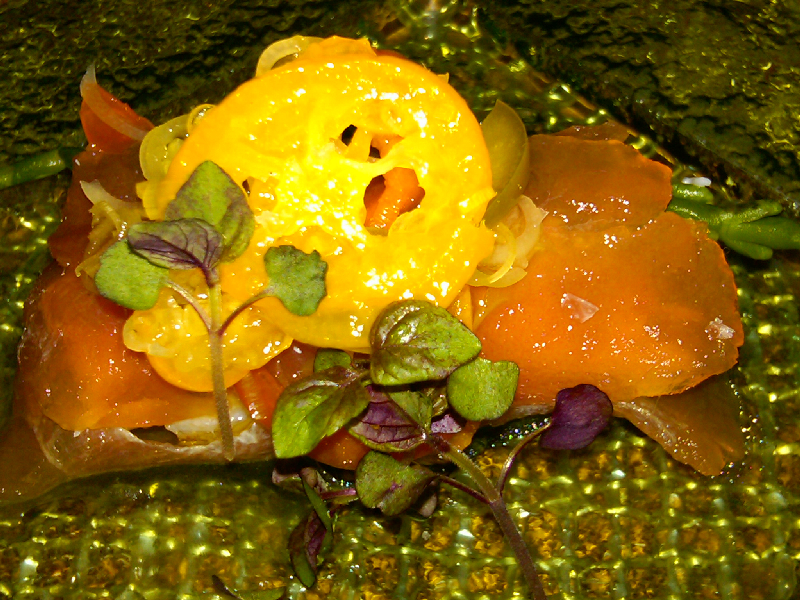 Once, the term "hotel restaurant" evoked images of gloppy Chicken Cordon Bleu served beside wilted lettuce salads in beige partition-filled Best Western dining rooms (no offense to Best Western).  These days, though, some of each major city's most upscale eateries are housed inside hotels.  And, in LA in particular, an inordinate amount of decent cocktail spots are also based in swanky hotels from The Roosevelt (Teddy's) to, well, The Chateau for one.
So, I can't say I was shocked to discover innovative, refined chow at Chef Simon Dolinky's Blvd 16 (inside Westwood's Hotel Palomar).  Actually, I was initially too busy being psyched that the hotel is not amidst the bustle of Westwood's little town center cause parking there is just a nightmare.
Anyhoo, turns out that Chef Dolinky's new Summer Menu offers up some pretty delectable treats, starting with a Pacific Breeze cocktail (with Basil Infused Square One Vodka, Cucumber and Lime juice) all the way through Hawaiian Tuna Rolls (with Dungeness Crab, Jalapeño and Lemongrass Vinaigrette and Micro Shiso) to the AMAZING Fresh Strawberries with creamy (and yet appropriately gelatinous) vanilla bean Pannacotta with a drizzle of fresh basil sauce (unimissable!!!)
One secret: Chef has a new hydroponic garden he's grown on his rooftop.  No, not THAT kind of hydroponic.  There's no pot in the food (just food in the pots).  BUT he is using these fresh herbs and some produce in his seasonal dishes.
And that, my friends, is one to grow on.  Or at least one to gobble up quick.
xo – N.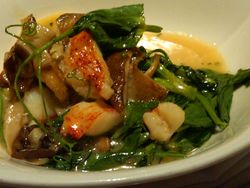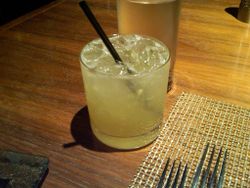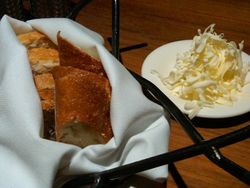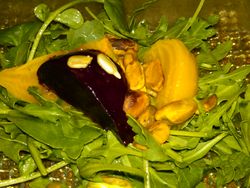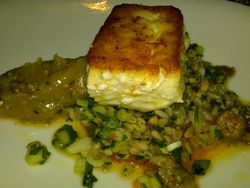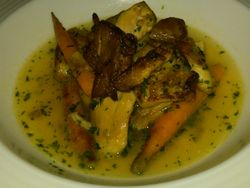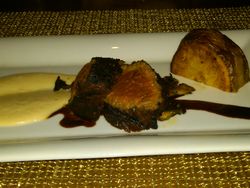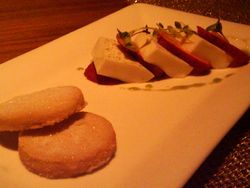 [CLICK TO ENLARGE IMAGES: White Corn Ravioli with Maine Lobster and Roasted Mushrooms; Pacific Breeze Cocktail; Warm Bread with Shaved Butter; Beet Salad with Watercress, Citrus Vinaigrette and Toasted Pistachios; Roasted Halibut with Tomato Carpaccio, Farro and Cucumber salad, Anchovy and Caper Berry Vinaigrette and Grilled Eggplant; Chicken & Dumplings with Roasted Mushrooms, Sweet Potato Dumplings, Glazed Baby Carrots and Consommé; Brandts Farms Grilled Bistro Filet with California Cherry Gastrique; Strawberries and Pannacotta with Basil Drizzle and Homemade Sugar Cookies]