LA/NYC (AND BEYOND): THE BEST NEW VINTAGE BETSEY
By Nora Zelevansky / August 19th, 2009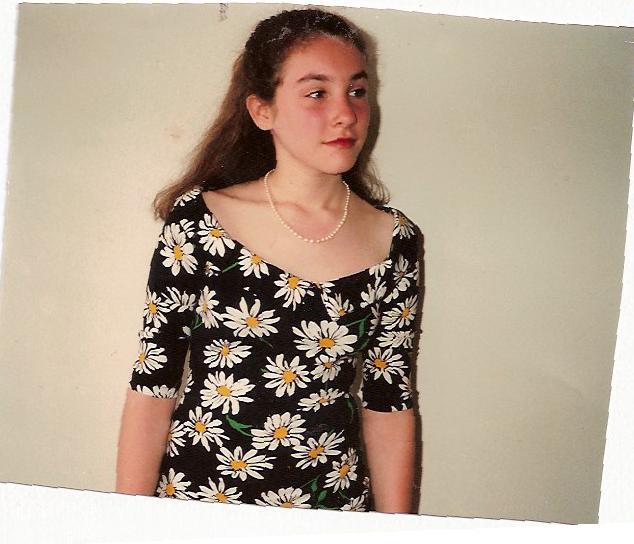 So, there I was the other day, just shuffling past a Betsey Johnson store, when I spotted it: The very same daisy patterned fabric that I'd rocked as a 13-year-old at my eighth grade graduation.
See, my first forays into the world of Betsey Johnson are quite memorable because, well, I was a major shrimp.  In fact, next to Winston Chou, I was the smallest kid in my class until maybe mid-high school.  I mean, not that I ever sky-rocketed to any great height, but you know . . . I made it to five feet.  At the time it felt like I was the only girl who was too small (in height and boobage) for Betsey's must-have stuff from crinolines to off the shoulder spandex.
Luckily, my very understanding, fashion-loving mother finally acquiesced for my Bat Mitzvah, indulging me with a black crushed velvet Betsey creation with matching bolaro, mais oui, despite the fact that it was way over-sized even in petit.  She let me have it anyway and took it to get altered for the big day.  Of course, as with every Betsey creation I've ever owned, it was a big hit.
But no Betsey dress has ever been so memorable as the daisy one worn above (and below), which I rocked at my eighth grade graduation.  I loved that dress.  I still love that dress.  Where the fuck is that damn dress????!

So, you can imagine my sheer joy at noticing that same fabric, reappropriated slightly silhouette-wise in the window of my local Betsey store.  I mean, I need that, right?  We all need that.
Now, rumor has it via T Magazine that, in addition to her capsule collection, Betsey has remade and is releasing a bunch of her old school goodies for Opening Ceremony in LA and NYC.  So, not only is the fabric repeated, but the designs themselves will be available.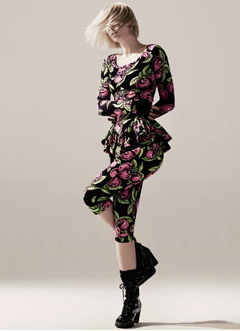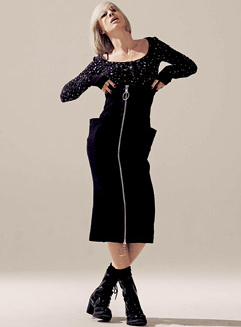 Personally, I'd really like to get in on that.  Right after I find that eighth grade graduation dress.  Cause it would totally fit.  Riiight.
xo – N.
P.S. Share your Betsey memories with THE LINT!  The Lint knows all . . . You are getting very linty.  Linty . . . Don't ask.
P.P.S.  How funny is it that the two pictures of me in this dress were taken on the same day, but one is all innocent and the other is vampy?  My sis has it right: one is the parental pic and the other, not so much:)
P.P.S. Also, I feel I need to give credit where credit is due and confess that my father actually pointed me in the direction of this new Opening Ceremony/Betsey vintage/new sitch.  Daddy knows best, once again.