LA (AND BEYOND): THE BEST THEORY FOR FALL
By Nora Zelevansky / September 16th, 2009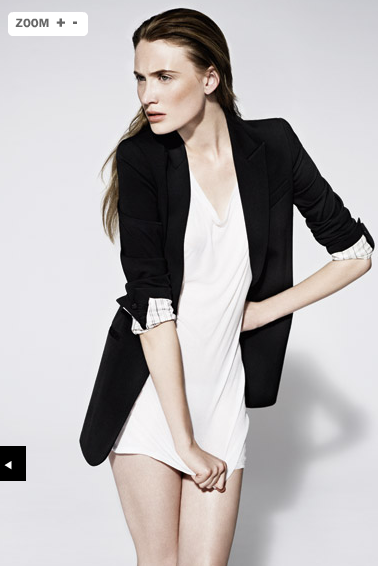 You know how I raved about my "boyfriend jeans"?
Well, now, it should be no surprise that I want the matching "boyfriend blazer" too.
Not that any boyfriend of mine ever wore a blazer.
Well, maybe as a Halloween costume.  "Hey, Baby–How funny is this?  I'm a dude with a job for Halloween!"  Funny.  Very very funny.
Whatever.  The Drewser has a job.  Right, Drewser?
The above Theory masterpiece is drool-worthy in my book (though I think I'd be inclined to wear pants with it).  Or at least leggings.  I think bottoms make a good impression at work meetings.
Anyway, the jacket is in stores and online now.  I know because I tried it on at Bloomies at the Beverly Center and at Barneys.  It still cost the same amount the second time.
You know what's not in stores though?  The perfect leather Theory bomber jacket that I saw at Leohmann's a month back and DIDN'T BUY in a movement of insanity . . . and poverty.  I went back like four times begging them to find it.
I never used to be a Loehmann's girl.  But then I sort of got hooked.  And now I'm all mad again.  How could I have passed up that jacket?  It must be their fault.  They deluded me into thinking everything should be cheaper!
Anyway, maybe I'll have to make it up to myself with this blazer.  Just don't drool on my parade.
xo – N.
P.S.  BTW, a Henri Bendel brand accessory store is opening at The Beverly Center this fall!  Pass it on:)