LA (AND BEYOND): THE BESTEST RED FOR RED LIP PHOBES
By Nora Zelevansky / September 23rd, 2009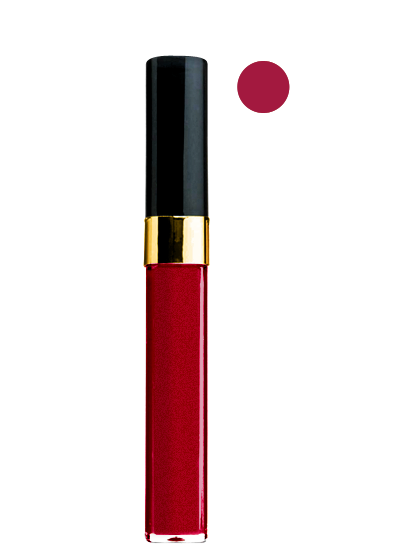 I don't usually do red lips.
In fact, I don't usually even do lipstick, especially in a bold color.  Don't get me wrong: I love the look of a bright, statement red lip with an otherwise almost naked porcelain or tan face.
Just not on me.
I have pretty small lips, so I never feel like they're the feature I want to highlight.  That would be like highlighting your small boobs or flat butt, while hiding your tiny waist or long legs, you know?
BUT every once in a while (especially when I'm feeling a bit pale), I have the impulse to replace my sheer glosses with bright lipstick.  But how does one do that and not channel her great aunt Mildred?
Wait, "channel"?  Don't you mean "Chanel?"  Well, first of all, wipe the lipstick off your teeth.  Then run (don't walk) to the Chanel counter and grab some Lèvres Scintillantes Glossimer Red Shine 217.  Now apply.
Here's what's brilliant about this gloss: first of all, the picture above doesn't quite do it justice.  The shade has a more "berry" tone and is flecked with gold.  I LOVE the color!  Second of all, because the color is glossy, it makes small lips look a bit bigger thanks to reflection.  Third, this gloss is a bit thicker than average, so the color stays on longer despite being gloss.  (I like to use a cheek gloss to put color underneath too, so that there are layers.)  Fourth, because the product is thicker, it can really be applied in an intense full throttle way or lightly for a more sheer vibe.  You can control the effect.
Anyway, I am totally in love!  Andre usually gets scared when I put on red lipstick.  Literally, last time he actually gasped and repeatedly asked me to wipe it off, Rain Man style.  But, this time, I applied the 217 color fairly heavily with just a tiny bit of mascara and he actually reacted and told me it looked pretty.
This particular color was created for holiday 2008, but I think it holds up.  I know I'll be wearing it around town this fall.  See you then!
Kisses!  (Big fat red ones.)
xo – N.