LA (DOWNTOWN)/NYC (CHELSEA): THE BEST PLACE TO SNAG 7 JEANS ON SALE
By Nora Zelevansky / September 25th, 2009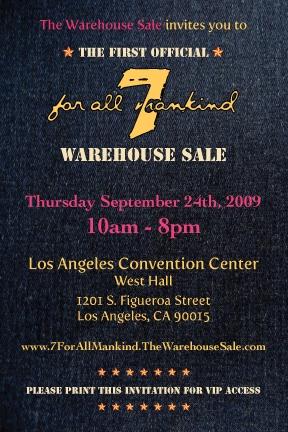 Well, I love to spread the good word on Fridays.
And, by "the good word," I mean good news in the form of shopping opportunities.  What?   That's MY religion, mofos.
Anyhoo, 7 For All Mankind's first ever "Warehouse Sale" starts today and extends through Sunday in LA at the downtown Convention Center and, in NYC, at Metropolitan Pavilion.  Jeans get less and less expensive as the sale goes on, so pieces start at $65 on Friday, $55 on Saturday and $45 on Sunday.  RSVP at the city specific link above!
I know the above flier is for Thursday, but don't be misled.  The sales on both coasts are going on through Sunday.
TGIF, peeps.
xo – N.