FRENCH POLYNESIA (OR, WELL, SAMOA): THE BEST TWO TRIBAL COUNSELS IN A ROW
By Nora Zelevansky / November 13th, 2009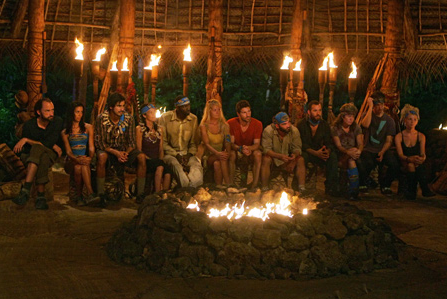 Okay, no spoiler alert here (although I guess this post is like admitting that I sat on my couch and vegged for at least part of the night on my birthday–oops).  But I just want to say that the last two tribal counsels on Survivor have been . . . amazing.  Total blindsides.
And for you "I'm a Celebrity Get Me Out Of Here" watchers, who scoff that no one actually watches Survivor anymore, I say get a grip.  See, my TV personality is like my wardrobe: very of the moment, which basically means hi-lo, mixing contemporary with choice vintage.  Nothing wrong with a little old school reality TV.
Can I get a "hallelujah"?
Also, it's Friday.  And it's also spooky, Friday the 13th.
Can I get another "hallelujah"?
Also, this post makes no sense.
Can I get a . . . eh, whatever.
xo – N.