NYC (UPPER WEST & BEYOND): THE BEST BRUNCH AND LUNCH BASKET
By Nora Zelevansky / November 4th, 2009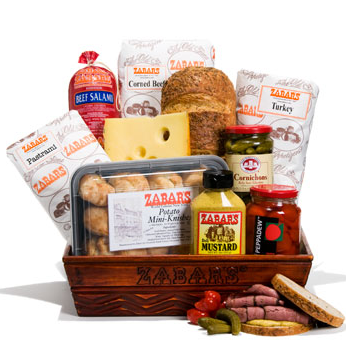 Maybe it's all this talk of NYC or, I dunno, the general ravenous hunger that seems to have come over me since I got stung by a bee in Mexico and became Bee Girl (a buzzing super hero who smells like nectar and flies around stinging evil doers), but I woke up this morning with a CRAZY craving for, well, just about anything.
Now, today happened to be the day that the Zabar's catalog arrived too, so naturally–especially because my parents' move to Pittsburgh has resulted in a marked decrease in Barney Greengrass Beverly Hills Sunday brunches for me–I started craving deli food.
Being completely off my rocker, I spent the morning considering which of all the catalog's baskets I'd most like to receive.  Oh, and I worked.  Riigght.
Anyway, see, I get the catalog in the first place because my friend S.D. sends me a food package every year for my birthday (which is fast approaching, BTW).  One year, she sent me the New York Goodies box with black and white cookies and other yummy stuff and a Zabar's mug, which has quickly become my fave.
Anyhoo, I've decided that despite the overwhelming amazingness of the $495 Ultimate Basket (HEAVEN), if money was no object, I would actually more likely luxuriate in the above Deli Sampler.  Why, you might ask, if you're also insane and thus still reading?  Well, for one thing it includes mini-potato knishes (the fresh, hot, full size likes of which I used to gobble regularly on the way home from school in flavors like Spinach and Cabbage) and (one of my favorite all time foods) cornichons.  YUP.
Okay–someone give me some effing pickles and hot corned beef on rye with mustard stuff NOW.  I don't care where it's from.
xo – N.