LA (THIRD STREET): THE BEST MATE FOR UGG FLIP-FLOPS
By Nora Zelevansky / December 14th, 2009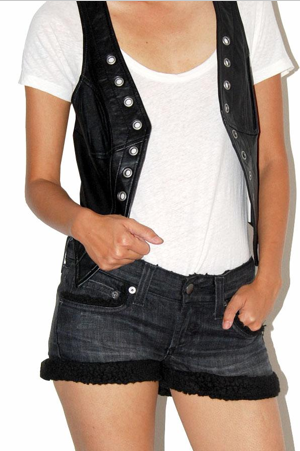 Is it just me or should these Erin Wasson shorts be set-up on a date with those furry Ugg flip-flops that I featured a while back?  These remind me of a slutty Santa or elf costume, but like for a goth chick or something.  If Pam Anderson was into The Cure, she would totally rock these mofos during the holidays.
I spotted them on Thursday night at Satine's new Third Street location.  They were upstairs on sale floor (because, yes, now the previously tiny shop has an entire second story as well as TONS of open space).  The store is amazing and holiday cheer did abound all up and down the boutique row until late into the evening.
A goth holiday to all and to all a good night.
xo – N.