LA (THIRD STREET): THE BEST PLACE TO BUY BOOKS FOR 20%-OFF
By Nora Zelevansky / December 4th, 2009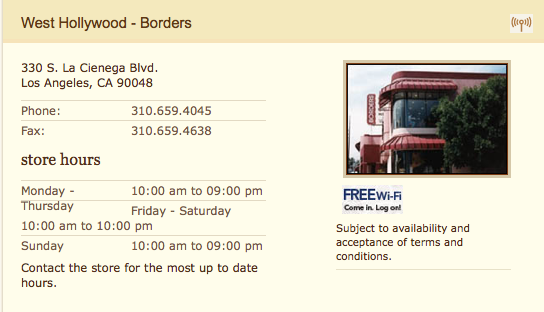 Considering the wild amount of change permeating lately, the closing of the Borders on my corner may seem like small news, ranking kind of low behind death and moving and other personal traumas people might be experiencing.  And maybe it should.  But I'm still totally bummed.  Do you know how genius it is to have a bookstore on your corner?
Andre and I frequented for books, magazines and dessert (yes, that's right), as we pathetically shuffled over there in lounge wear to grab late evening chocolate treats from their "impulse buy" boxes at the counter.  (Okay, only I was wearing lounge wear.  Happy, Andre?)
But anyway, lemon into lemonade and silver-lined clouds and all that trite jazz, the store is offering a 20%-off sale for a large majority of the store's merchandise right now, so–if you're buying books as holiday gifts or just for vacation reading–you might want to head over and grab your stuff.
Wait, do you think that includes our chocolate?
xo – N.