SHADYSIDE (PITTS, PA): THE BEST CHICKEN RAMEN SITCH
By Nora Zelevansky / January 13th, 2010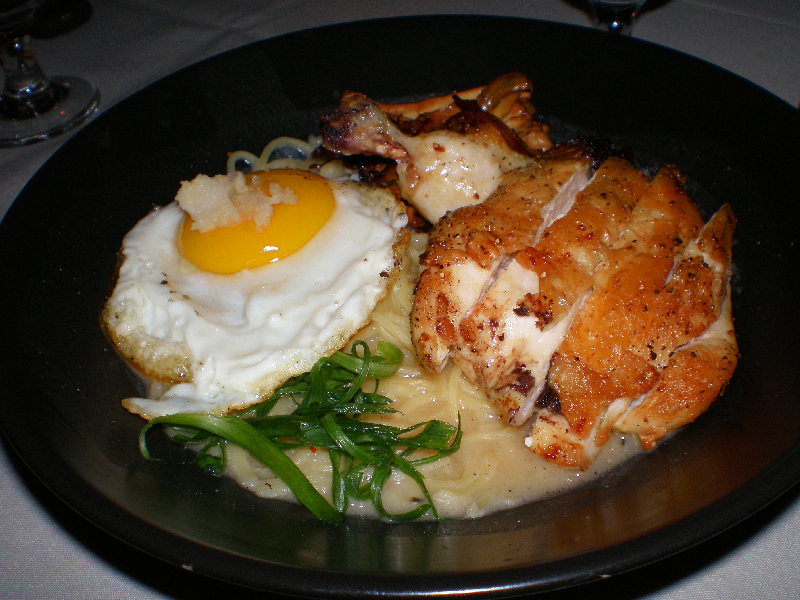 I don't know about the rest of you, but I'm sick.  Again.  And not just in the head.  (That distinction sounds familiar.  Did I make it before?)
Anyway, I am so over having a cold and all I want is the above Pan Roasted Chicken Ramen with confit, chanterelle mushrooms, fried egg and miso broth from Soba in Pittsburgh.  Yup, I'm yearning for Pittsburgh chow.
See, Soba is this Pan-Asian spot with other delicious dishes too (that taste even better than they sound, for real) like Indonesian corn fritter wrap with bibb lettuce, basil, mint and chili-soy dipping sauce, grilled flat bread with edamame hummus, spicy cucumber salad and house made pickles (you know where PL stands on house made pickles–PRO!) and pork dumplings with sweet vinegar dipping sauce.  But the ramen and the beef short ribs with massaman curry, celeriac puree, heirloom baby
carrots, brussel sprouts, kaffir lime gremolata and peanuts are the specialties and they are not to be missed.
Missed like I miss that ramen right now.
xo – N.