STRIP DISTRICT (PITTS, PA): THE BEST BISCOTTI, "SANGAWEECH" & MEYER LEMON PASTA
By Nora Zelevansky / January 8th, 2010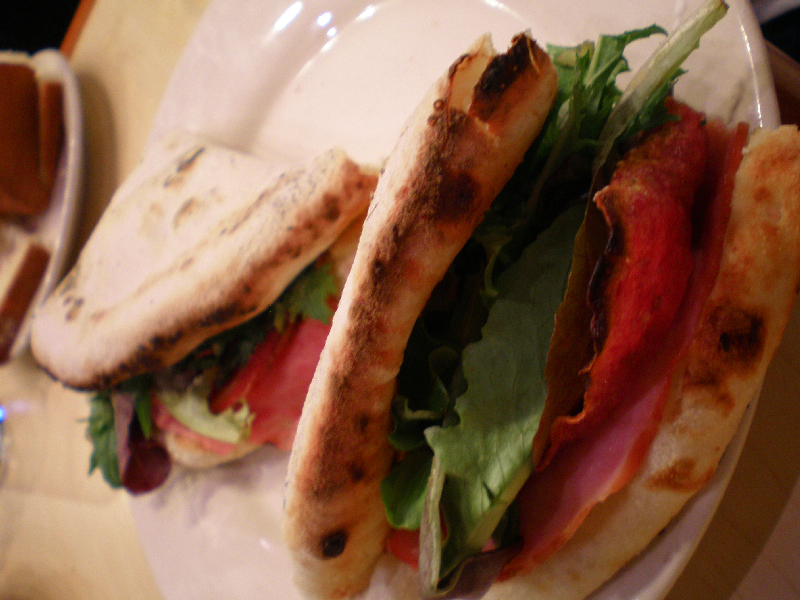 When one brings up the topic of Pittsburgh and food (which BTW I never did until my parents moved there), generally you hear a lot of chatter about Primanti Brothers' Ham & Cheese sandwich (which comes with a fried egg and french fries ON TOP).
On my recent trip to Pittsburgh, I didn't eat that sandwich.  Obviously.  Because otherwise I wouldn't be writing this post; I'd be undergoing triple bypass surgery.
Okay, maybe that's an exaggeration, but I didn't end up trying the famous/infamous sandwich anyway.  BUT I did try the above "SANGWEECH" on, yup, pizza crust from The Enrico Biscotti Co.  But I'm getting ahead of myself:
The first time we tried to go to the restaurant, we were too late.  This is the kind of amazing spot that simple buys what's fresh and then closes when they run out of food.  Their menu is minimal and seasonal and changes often, so you never know what kind of delights await.  Saddened because we didn't get to eat lunch, I ended up going to their adjoining bakery and buying like six different flavors of homemade biscotti, some of the best chocolate-covered macaroons ever AND two globs of peanut butter just dipped in chocolate.  SHUT. UP.
Despite all the sweets, when we came back to Enrico's a few days later (before they ran out of food this time), I still fit through the door.  Because it was just before Thanksgiving and everyone was feeling autumnal, they served dishes like homemade pumpkin risotto with toasted hazelnuts (rich, but unusual) and simple bowtie pasta with lemon, garlic and olive oil (see below).  We also sampled their signature "Greens & Beans," which was also just a simple combo of kale, cannellini beans, garlic and olive oil.  ALL CRAZY DELICIOUS.
So, move over Primanti's ham & cheese (if you can get your fat ass to move).
xo – N.
P.S.  For the record, I have EVERY intention of trying that Primanti sandwich the next time I'm in town and I'm sure it's delicious.  Will send you guys the resulting Lipitor prescription bill.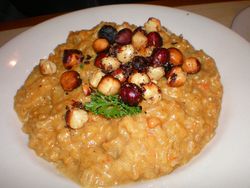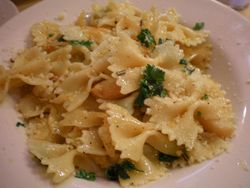 [CLICK IMAGES TO ENLARGE: Pumpkin Risotto & Lemon Pasta]