VEGAS (AND BEYOND): THE BEST BOX O' CHOCOLATES (IS THE ONE ON MY LAP)
By Nora Zelevansky / January 26th, 2010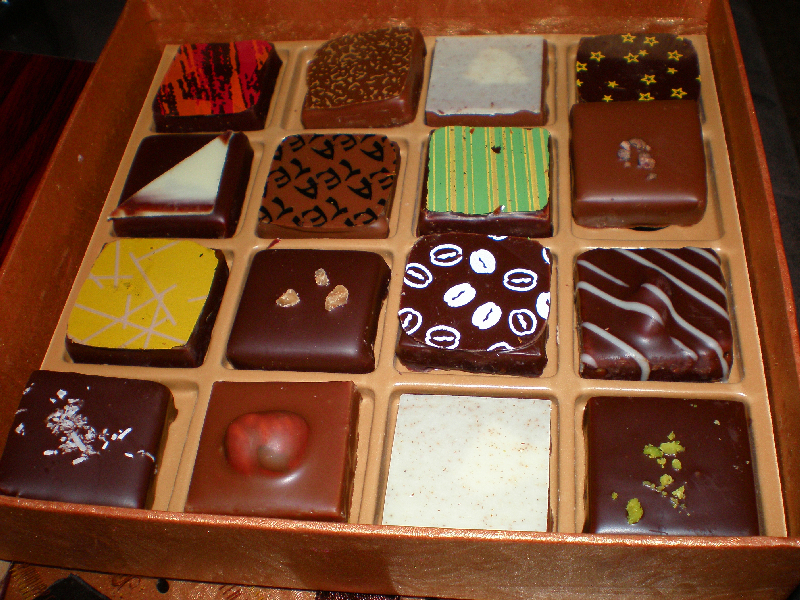 Does my blog look fat?  You can be honest.  Seriously, does my font look BIGGER THAN USUAL?
Okay, okay, so lately I may have subscribed to my own feed, if you know what I mean.
What I'm trying to say (in this VERY convoluted way) is that I've eaten my weight in, well, everything lately.  And I'm still going down that route thanks to the above Jean Philippe Patisserie chocolates I brought home from Vegas' City Center this week.
Initially, I thought they were so pretty that I couldn't even bring myself to dig in, but Andre got me over that hump (way to be supportive, sweetie).  I'm not even a huge sweets person, but I love a box of chocolates, when they are all different flavors.  You never know what you're going to get.  Unless you read the accompanying descriptions.  So I guess you kind of know what to expect.  Whatever.
The point is that my favorites (and I can say this because I have effectively already eaten them ALL) are the Caramel (salty buttered caramel ganache covered in dark chocolate), Gringo (Blue Mountain coffee-infused caramel ganache covered in dark chocolate) and the Rustic (crunch praline Gianduja ganache covered in milk chocolate).
And now I have to sign off, as I'm falling into a post-sugar shock coma.  Must.  Eat.  More.
xo – N.