LA (AND BEYOND): THE BEST NEWLY LAUNCHED LOCAL STYLE BLOG
By Nora Zelevansky / February 14th, 2010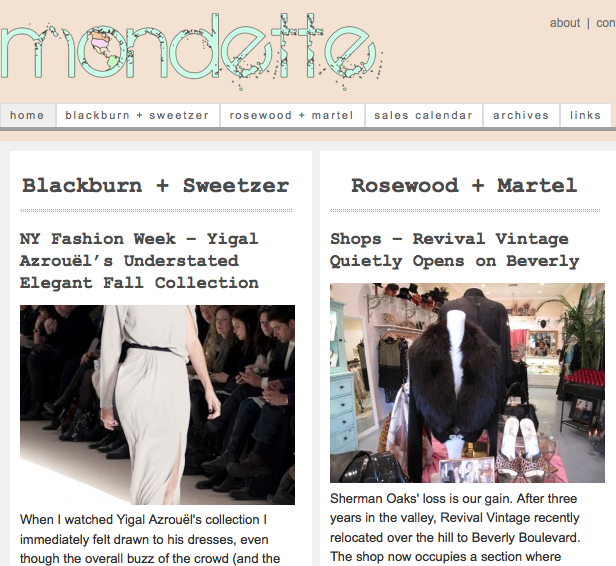 To announce that I'm a BIG fan of local Third Street style blog, Blackburn + Sweetzer would be a major understatement (not to mention an insult to the intelligence of any regular PL readers).
Over the oh so long year of writing this . . . thing . . . this behemoth beast (swoon from exhaustion), I've constantly referenced my pal Tasha Nita Adams' blog as a daily "Crumpled Twenty" or even just as a resource.
Well, now her "little sib" blog is all grown up and part of a newly launched larger style website called Mondette.  With fashion world partners in crime Lilliam Rivera and Christina von Messling, the new website also covers the entire Melrose area (Rosewood + Martel).  Well, the parts worth knowing.
As the name Mondette suggests, these ladies translate this sprawling urban (and sometimes weirdly suburban) jungle into a small world, highlighting truly local happenings and finds in these central enclaves.  LA can be a hard city to get to know, but this is like a short cut to finding your favorite neighborhood spots and characters.
It's a cheat sheet, if you will, to making LA your style-centric home.
xo - N.